Paradise
Dusty Hughes
Hampstead Downstairs / Celia Atkin
Hampstead Theatre (Downstairs)
–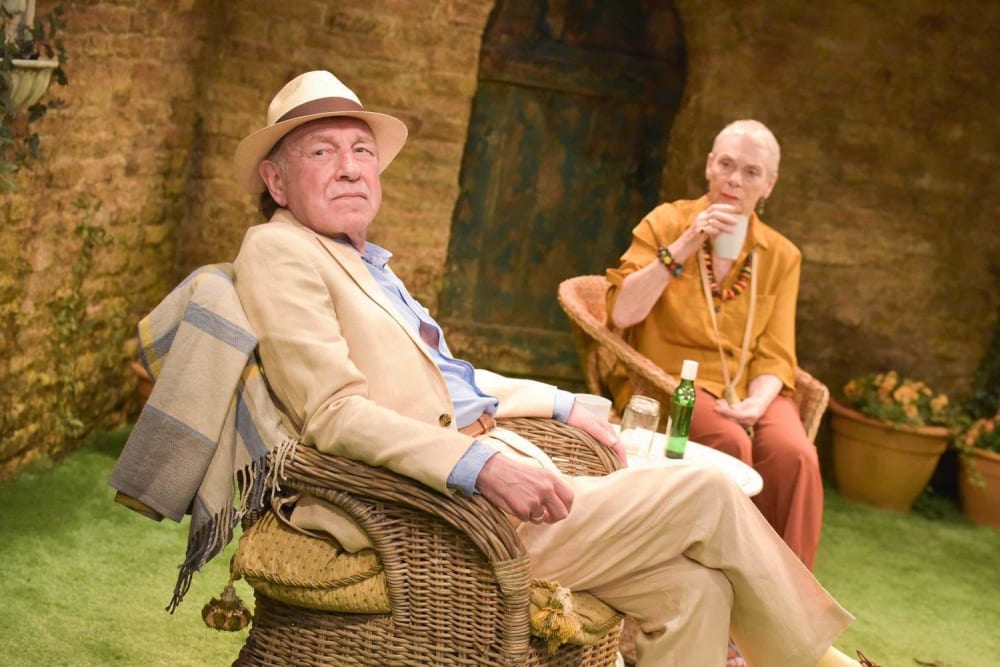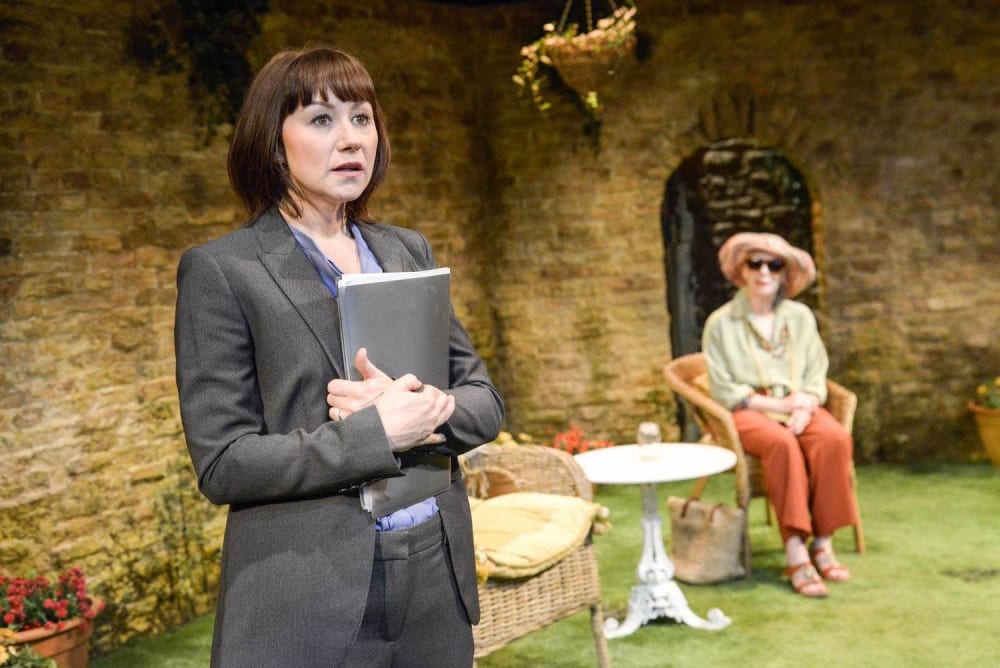 An elderly gentleman in a panama hat dozes in a wicker chair on a well-trimmed lawn in a walled garden. He is woken by a lady with a very individual look bringing gins and they begin to talk about the sacking of staff, cook's sudden demise and the problems that their children's spouses will create when they come for Christmas. Are we in for a pre-war middle class comedy on the lines of Hay Fever? No, it's all a game between two old friends, Roderick Meakin and Amanda Goose, now resident in an upmarket retirement home, The Haven, where a state pension wouldn't even meet the cost of their lunches.
But how real is The Haven? The garden walls of designer Anna Reid's sun-drenched idyllic setting are supported by unreasonably big buttresses; you can't help but wonder what's the analogy here, what is holding these lives up?
This is partly a meditation on aging and destination death, the beginnings of dementia, the financial and emotional costs of going into care but it is mainly a wryly-comic confrontation between this maverick couple and upper middle class convention.
Roddy is gay man who flaunts it; he served a prison term after being caught cottaging, then found a rich (and talented) lover. "I lived," he admits, "out of Langston's handbag." That's how he can afford to be here. Amanda, who has known him since childhood, is a former teacher who raised a child alone; the geography teacher father was already married. She was around to support Roddy in his tough times; will he now do the same for her? She had a stroke a couple of years ago, now she has memory losses. He pretends not to remember that night many years ago when they got drunk in a sleazy Soho club and he spent the night with her but the prickly affection between them is obvious.
Geoffrey Freshwater gives Meakin that camp arrogance that forestalls as the first defence against homophobia and it is easy to see why his swear words upset the staid other residents like the aged Air Marshal and prim Lady Whatever, but he made a friend of the former manager and got away with it. Now there's a new one in charge with instructions to be tougher; but fortunately there is something Roddy doesn't know about that gives him the upper hand. Sara Kestelman's Goose isn't so lucky.
Rebekah Hinds gives a warm and lively performance as nurse Sam, understanding and caring, who befriends Goose and tells tales of her own family's foibles. Even the new manager Kim shows him some deference and Claire Lams shows her split between wanting to offer her residents supportive service while still meeting company objectives; intriguingly, her accent suggests she comes from a quite different background from that of her clients though the plot doesn't develop that.
There are points in the backstory that don't seem consistent. Perhaps that is just memory loss, but the plotting isn't firmly grounded in reality. In real life, Social Services don't operate so smoothly and some things don't add up. If Roddy annoys the residents by talking Polari, how come that we never hear him use any—or is it not so much habit as pure provocation? And are we really to believe that he goes so far as to turn flasher one dinnertime?
While the play has an awareness of the individualist's problems in coping with communal living and the infuriating condescension with which some people treat the elderly, suggests an understanding of incipient Alzheimer's and has a realistic understanding of care costs, Alice Hamilton's production seems very even. There is no real sense of drama over Amanda's predicament, little urgency when she goes missing, nor does it go the other way and exploit these situations for their farcical value.
Paradise relies on its actors to hold our attention and these performances by Sara Kestelman and Geoffrey Freshwater make it worth seeing.
Reviewer: Howard Loxton