Paradise Lost
John Milton, adapted by Ben Power
Theater Royal, Bath
(2006)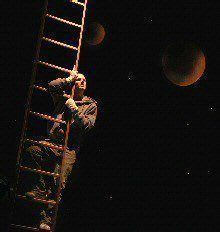 The devil, it is commonly remarked, has all the best tunes. Paradise Lost, Milton's lengthy poem from which this production is adapted, may not top the bestseller lists, but as least it is read. How many people are even aware of the follow-up, Paradise Regained? Two theories offer themselves: playwrights, poets and novelists write better about what they know most deeply and two; goodness is inherently boring - happiness writes white, as Tolstoy remarked.
This production which was first staged by former Northampton and Derngate Theatres director Rupert Goold, based on an adaptation by Ben Power, three years ago was, by a strange coincidence, only one of two attempted that year. David Farr, former director of Bristol Old Vic, also came up with the same idea. Both gained very positive reviews then (see Pete's review of David Farr's production) but, having just seen Goold's production for the first time, my feeling is his staging is the more successful.
Milton's poem was initially conceived of as a drama and his rich and oratorical language, which was dictated by the blind author to his secretary, often lends itself wonderfully well to being performed on the stage, as Powers remarks.
The other major plus for this production if the casting of Jasper Britton in the role of the devil, who delivers the rolling iambic verse, uncharitably compared to the sound of heavy furniture being moved around, with a truly satanic ease.
The action gets under way in what appears to be a school gymnasium in which a hooded, hunched figure squats amid litter and overturned chairs. As with the Bristol Old Vic staging; two ladders, stage left and right, extend to the ceiling. This narrator figure, whose identity is revealed at the last in a deft and moving piece of theatre, sets the scene for what is to follow. The question is, as David Byrne put it in the song Once in a Lifetime, well, how did I get here?
Charles Aitken, previously nominated for a Best Newcomer award, is ardent and clearly-spoken in his role of the son, a constant spectator at what follows.
The first half of the evening makes for surprisingly gripping theatre as we follow the fall of Satan, né Lucifer, and his fellow rebels, driven out of the celestial city after the mother of all battles. The rebels finally find refuge in the gloomy and utterly cheerless realms of Pandemonium lit, in Ben Stones' sparse and often witty design, by a Dan Flavin-like cluster of red neon tubes.
What makes Paradise Lost resonate today is the complexity of the character of Satan. Milton, a God-fearing man, writes with sympathy, insight and evident relish, much as Shakespeare did when creating his own devil - Richard III. Satan may have committed the capital crime of treason but he did so out of very human motives, the best of which is a yearning for liberty. As he announces on his arrival, "Hell, receive thy new possessor/Here at least I will be free". There is also no little irony in the fact that the first thing the infernal throng do on arrival is to hold a referendum on the way forward. Democracy might have no place in Paradise but in hell, the devil(s) will have their say.
In a drolly comic scene featuring a malfunctioning microphone, Belial, Beelzebub et al, debate the merits and demerits of an all-out assault on the pearly gates versus guerrilla warfare. The upshot is that Satan heads off across infinite wastes bound for Eden, somewhere on planet Earth; his mission, bringing about the downfall of Man, God's latest favourite creation.
So far, so good. But the dramatic tension of the first half falters once the action transfers to Eden as Satan sets about engineering the fall. Vinette Robinson as Eve is personable enough but Adam, played here by Christian Bradley, is a bore. There's some good work by Jasper Britton who at one point is transformed into an infernal circus master equipped with megaphone, but after the apocalyptic vision of the fall, the dark sonorities of the language and some magical special effects - Satan's falling head over heels through the void, it all rather seems thin fare thereafter, despite the cast's best efforts.
If like myself, you have only a passing acquaintance with Milton's magnum opus and, like Dante are in desperate need of a guide, this bold adaptation, albeit only partly realised, may be just the thing to spur you into exploration.
Reviewer: Pete Wood