Parents' Evening
Bathsheba Doran
Jermyn Street Theatre
–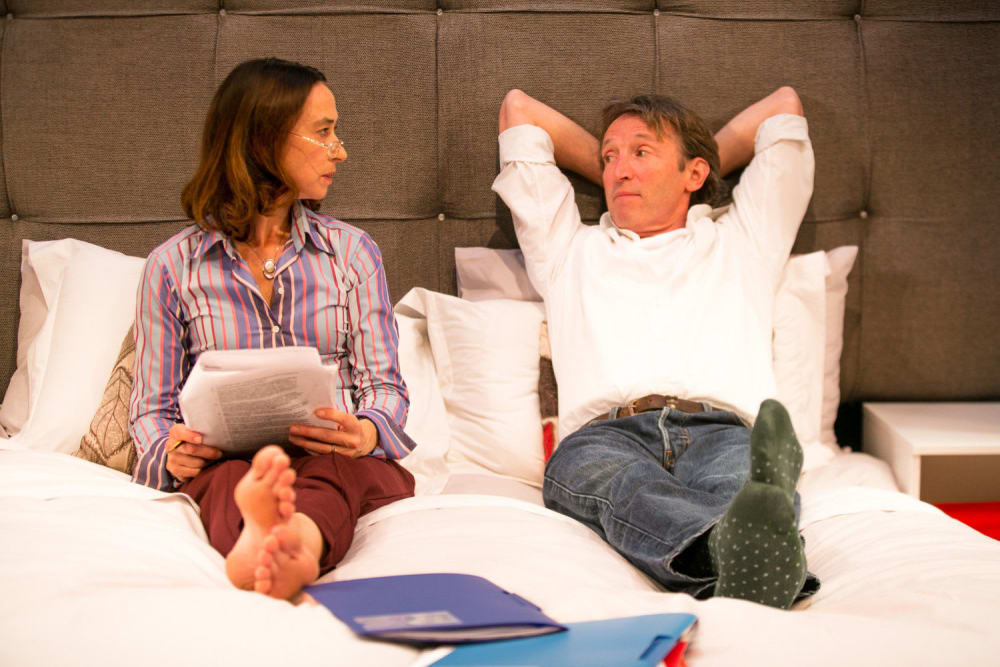 A play about marriage and parenting, this is parents' evening in both senses: a meeting to attend at their child's school and the couple at home before and after. It is the latter that Bathsheba Doran presents in what could be called a bedroom drama, for that is where it is set.
Ten-year-old daughter Jessica is clearly a handful. She has been rude to teachers, another parent complains she's passed an explicitly improper book to her child and what's worse in dad's eyes is her crowing reaction to winning at Cluedo. He's been so annoyed at her behaviour that he's given her a bollocking and slapped her. Jessica's competitive, bossy and manipulative—but how far are her parents responsible?
Charlotte Espiner's setting beautifully illustrates the situation with its buttoned-fabric headboard and pristine white fitted furniture, a single red blossom matching the carpet, but littered with the files her mother has brought home from work, while father Michael prowls around arguing but doing nothing, though he keep saying he's going to make tea.
Mother is a lawyer, keen to become senior partner in the practice. Father is a novelist (and house husband), already successfully published but at an impasse in writing his new book.
Jessica clearly has picked up a lot from both parents, a mix of their two personalities, but her mother considers she bonds with her better bond and that her father frightens her.
What might their daughter have told her teachers? What should they say when a social worker comes to see them? Will Jessica exploit the situation to score over them?
Parents' Evening doesn't say anything particularly new about child rearing or managing a marriage but its picture of the stresses that both bring seems a true one that Doran presents with considerable humour. It is a ninety-minute play (including an interval) that doesn't need to dig deeply because its situations and problems are so immediate and familiar.
As the Mother, Amy Marston presents a picture of superficial confidence with a tendency to panic if order is interrupted and a tendency to self-guilt. The Father could seem very wimpish—you can't help wondering whether he is any good as a writer—but Peter Hamilton Dyer makes his loving feel genuine, gives a naïve innocence to his outbursts and, in still moments when he stops arguing, a little-boy-lost quality that was probably part of his original attraction.
Stella Powell-Jones's direction keeps the ball bouncing between the two of them, keeping the play continually engaging. During the occasional hiatus when Michael lets his wife get on with her work, she introduces a faint whistling sound. Although the two acts (before and after the school meeting) take place in real time that also suggests an on-going situation, the problems of marriage and child rearing are never-ending.
Bathsheba Doran is British-born but has found success as a dramatist in New York. Although her plays have been published in the UK, this is the first to be produced on the British stage.
Reviewer: Howard Loxton