Park Avenue Cat
Frank Strausser
Arts Theatre
(2011)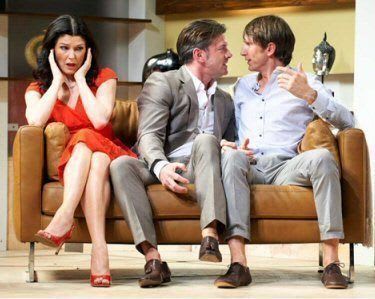 You are a forty-something female in love or maybe lust with two men, thinking about marriage and having a baby, and it's all a bit too much: what do you do? For eponymous Park Avenue Cat Lily (Josefina Gabrielle, a Julianne Moore-esque brunette) the answer is to seek couples counselling with therapist Nancy (Tessa Peake-Jones).
The play opens with Nancy expecting said couple: Lily arrives (her man is late). The question is, when he does arrive, will it be fiancée Philip (Gray O'Brien) or lover Dorian (Daniel Weyman)?
Much of what ensues centres around this three-way comedy and its errors as characters try to work out what they really want. Meanwhile, Nancy's between-client quiet moments are punctuated by unconvincing phone-call interjections as clients update her on their between-session progress.
The cast is uniformly talented and of pedigree, the unfolding set is a delight, the inter-scene music well chosen (ranging from an updated Bolero to Latin Romance). And yet, everything feels laboured and contrived. Perhaps it is down to timescale: at one hour twenty minutes (no interval) there isn't time to develop characters so that we care about them.
O'Brien (latterly Coronation Street's Tony Gordon) looks divine, has stage presence and sustains his American accent well but is not present on stage for long enough; Weyman's comic skill is well demonstrated in his physicality; Peake-Jones is a convincing therapist, and Gabrielle is stunningly beautiful but her beauty is not enough to explain why these men would waste time on her.
There are some sharp observations within a script that has its fair share of expletives for those that care about such things. And, a profound moment for Lily occurs when therapy helps her question her true motivations for late-motherhood: does she want it, or does society expect it?
There was plenty of laughter around me: however, comedy is only funny when the bone it touches isn't a personal one and childless women of a certain age without Park Avenue riches to fund their own IVF might not be the target audience for this piece. As Lily admits, she could have had a baby earlier, regardless of these men.
Running to 20 August
Reviewer: Anita-Marguerite Butler