Park Avenue
Music by Arthur Schwartz, lyrics by Ira Gershwin and book by George S. Kaufman and Nunnally Johnson
Part of the Lost Musicals season
Lilian Baylis Theatre
(2008)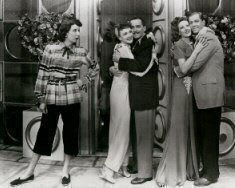 Back in 1946 the quartet of creative talent listed above had New York agog with anticipation of a hit musical comedy. After a decade of costume operettas like Oklahoma! it seemed high time to enjoy a witty show about the black-tie set on Park Avenue.
But things started going wrong during a tryout in New Haven. And despite Broadway advance ticket sales, by the time they reached Boston they knew they were in trouble.
Ira Gershwin's lyrics, the last he would write for Broadway, were as brilliant as ever, eerily anticipating Sondheim's marital themes for Company; while the matching Arthur Schwartz score was tunefully memorable, even at a first hearing. But the book was a disaster.
As Ira's opening lyric tells us, "We live in an age that's the pinnacle of the cynical." But the plot was too closely based on a short story by Nunnally Johnson which had mercilessly mocked the current moneyed mania for serial divorce. And as Ira himself noted, "Divorce is a ticklish subject to be funny about for an entire evening."
Six decades later the single joke still wears thin, and there's a second act monologue which unravels the plot in spoken word instead of song. But since this revival is essentially a showcase for a Lost Musical, Ian Marshall Fisher's hand-picked cast in smart evening wear makes this an utterly beguiling Sunday entertainment.
Hats off then to Elizabeth Counsell who leads the show with starry glamour and boundless energy as a New York society hostess with a friendly line-up of ex-husbands, each a fond daddy to her betrothed daughter Madge.
Madge herself, an enchanting ingénue in Helen Anker's attractive performance, is in love with tenor Stephen Carlile's South Carolina beau, an ex-serviceman looking for a home-loving wife. Initially shocked, then bemused, he finds her family's enthusiasm for serial marriage and divorce a valid reason to pack his bags before their wedding, planned for the morrow.
But let's forget the all-too-predictable plot. As in 1946 this is an occasion for a delectable series of musical set-pieces, nothing more enchanting than a chorus cum sentimental ballad, 'The Dew Was on the Rose', celebrating the benefits of moving on before marital familiarity sets in, or Ira's deft Caribbean calypso for a male quartet of New York stuffed shirts proclaiming America as "a land of opportunity."
Peter Gale, himself a veteran discoverer of lost musicals, plays a nimble-footed divorce lawyer struggling to make sense of tangled inter-marital family trees in a song and dance number about 'Sweet Nevada' as the state of the broken union.
Best of all is a glorious trio of oft-married wives, portrayed with stunning style by raunchy Andrea Miller, tall slender Valerie Cutko in a bias-cut gown and droll comedienne Nuala Willis, who discover dozens of ultra-sophisticated reasons "not to be a woman if you can." — talking of which, do catch this delicious concert performance while you can, there will never be another like it.
"Park Avenue" opened at the Lilian Baylis Theatre (next door to Sadler's Wells) on March 30. Sunday performances continue at 4pm on April 6, 13, 20, 27 and a final evening performance at 7.30pm on April 27 Box Office 0870 737 7737.
Reviewer: John Thaxter