Partition
Nick Ahad
BBC Radio Leeds and West Yorkshire Playhouse
Courtyard Theatre, West Yorkshire Playhouse
–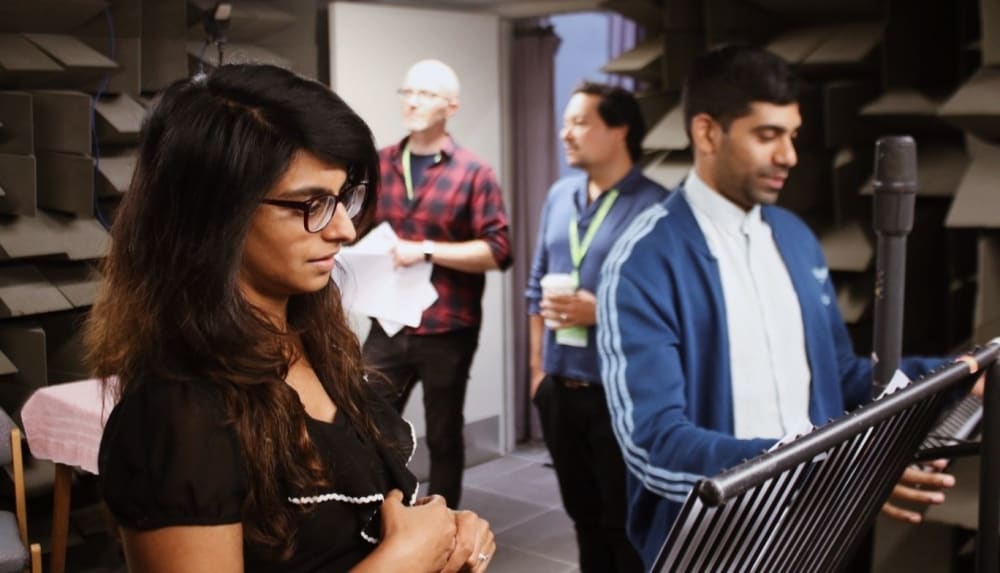 It's only seventy short years since the fateful partition of colonial India into two independent territories. Across the BBC, several strands are remembering the time as a troubled and in some ways shameful period of history, exploring the often brutal repercussions of the blithe division of a massive territory along religious lines which refuse neatly to align with human geography.
Nick Ahad's contribution here is a combined commission by BBC Radio Leeds and the West Yorkshire Playhouse, a semi-staged radio play in which we watch the cast perform both to us and into a well-deployed array of microphones. A stage manager also performs foley effects, and two Radio Leeds presenters provide jolly cameos lightly sending up their on-air personas.
Rather than delve into the history of the era, Ahad has focused on a single present-day story as an illustration of the hurts and feuds which still exist in living memory for the Sikh and Muslim communities of the UK.
So while, at the start, archive audio of 1947's triumphantly optimistic declarations of peace and independence rings out around the theatre, in truth this is somewhat wrong-footing. Soon we are introduced to Saima (Mez Galaria), running away from a wedding, and her fiancé Ranjit (Darren Kuppan), pursuing her, high heel in hand. What starts as a seeming Cinderella story resolves into more of a Romeo and Juliet tale. Saima, who is a Muslim, speaks in soliloquy to the memory of her father as she doubts her decision to marry Ranjit, a Sikh.
With the registry office wedding looking in doubt for want of witnesses, the couple talk through the source of Saima's anxiety, and we learn of the tensions which have led both her mother and Ranj's grandfather to refuse to sanction the marriage.
The exposition is well-paced, with the wedding tale an endearing one on which to hang the historical background. Ultimately the personal tensions are resolved in genial fashion, while this difficult and devastating history still hangs over the family.
As the story whips along at speed, the performers often double or even triple roles, and bring wit and sparkle to each part. Kuppan does this to great effect, spanning ages with ease and darting around with great energy. Balvinder Sopal similarly plays across ages and races to evoke not only the disapproving mother, Amina, but also a clueless registrar to whom much of the history is explained.
Dominic Gately puts in an assured comic turn as a trio of foils to the central characters, while Mez Galaria is focused and compelling as the divided young woman at the centre of the story. The great joy of the piece is in watching the radio play as it is created in front of our eyes (and ears). Stefan Escreet's direction straddles the audio and visual worlds with freshness and lightness of touch.
Underpinning all this is, of course, a historical fact involving the horrors of mass displacement and murder on unthinkable (and unknown) scales, all ensuing from the callous division of a homeland between India and Pakistan. This history is introduced both through the story, as background to the characters' motivations, and in a wrenching non-fiction coda to the play. At heart, this is a warm, gently educational tale with the laudable ambition of opening a wider audience's eyes (and ears) to a horrendous but often overlooked chapter in our history.
Reviewer: Mark Smith