Party
David Dillon
Above the Stag Theatre
–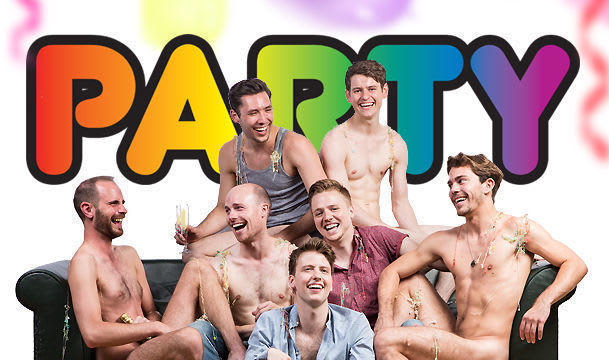 Party is just that: seven gay guys having a party. They are having a good time and so is the audience.
There is talk about sex (quite a lot) and they do get their clothes off, but there isn't much of a plot: they just play a game called Fact and Fantasy. This is a bit like Truth or Dare: acting out fantasies and answering questions with a vote being taken on what is the truth and what lying.
The play is a picture of gay men at ease with their orientation and enjoying life. It is a comedy; there is no angst about who they are, no persecution, not a word about AIDS. Back in 1992 Dillon wrote it as a reaction to all those painful gay plays about homophobia and dying. Six years later he created an English version, relocating the setting and cultural references, which premièred at the Arts Theatre and that is essentially what is revived here in a sparkling production directed by Gene David Kirk.
It has not been updated. This is a world without mobiles and Grinder, selfies and texting. Lifestyles have changed in the last twenty years but this play hasn't lost any of its relevance.
Although gay marriages and adoptions have made a difference, its picture of gay brotherhood, of bonded friends as family, hasn't dated, the poignancy with which it subtly references recovery from a broken partnership, the warmth with which a young newcomer is welcomed to the fold, the honesty with which a priest explains why he took holy orders all ring true.
While the surface may be frothy and one laugh follow another in fast succession, there is a serious undercurrent that makes this much more than a funfest. There may not be much plot but it is a play that has been carefully constructed.
Yes, there's a priest—gay clergy aren't a new thing. He's a music theatre freak, devoted to his divas and one of the party's hosts, fussily rearranging cushions before his guests get there. Ben Kavanagh makes him one of the campest of the crew but perhaps the kindest.
Nic Kyle plays co-host Kevin from down-under, a gentle soul missing the physical closeness of his former lover, he's a teacher and you know he'll be a good one. Stefan Gough's Peter is the third flat-sharer. The game makes him admit his love for Kevin, a situation carefully handled. He claims that he's met Audrey Hepburn; will the others believe him?
Andy is one of Kevin's students, new to the gay scene. Though Ray lectures him for his show-biz ignorance, Tom Leach gives him increasing confidence as the evening progresses. High-kicking Brian needs no such instruction, a music theatre performer who can outdo Ray in camping. Jamie Firth gives a spirited performance, his debut as actor rather than dancer.
There is something mysterious about Sam Goodchild's teetotal James, just a hint he might be into something special like leather. Lucas Livesy's Philip completes the gang, determined to keep things lively and, like Brian, up for it with no strings attached.
This seems a very middle-class set of gay men. There is no attempt to reflect the way being queer could bridge class and cultural barriers or to present a YMCA-like range of sexual predilections but then, whatever potential punters might imagine, this play isn't really about sex but about love, friendship and gay humour.
As the game progresses, clothes are shed but these are men comfortable with their bodies; after a momentary prurience, nakedness seems irrelevant except as it parallels these guys' self-exposure of thoughts and feelings. They may have bodies good to look at but there is nothing titillatory about the way they are presented, though you can't help but notice that none of them would pass as Jewish. Maybe that's something else that's changed since 1992.
Originally announced as ending on 9 October, the run has already been extended to 30 October.
Reviewer: Howard Loxton