Passagers
Written, directed and choreographed by Shana Carroll assisted by Isabelle Chassé
The 7 Fingers
The Lyric, Theatre Royal Plymouth
–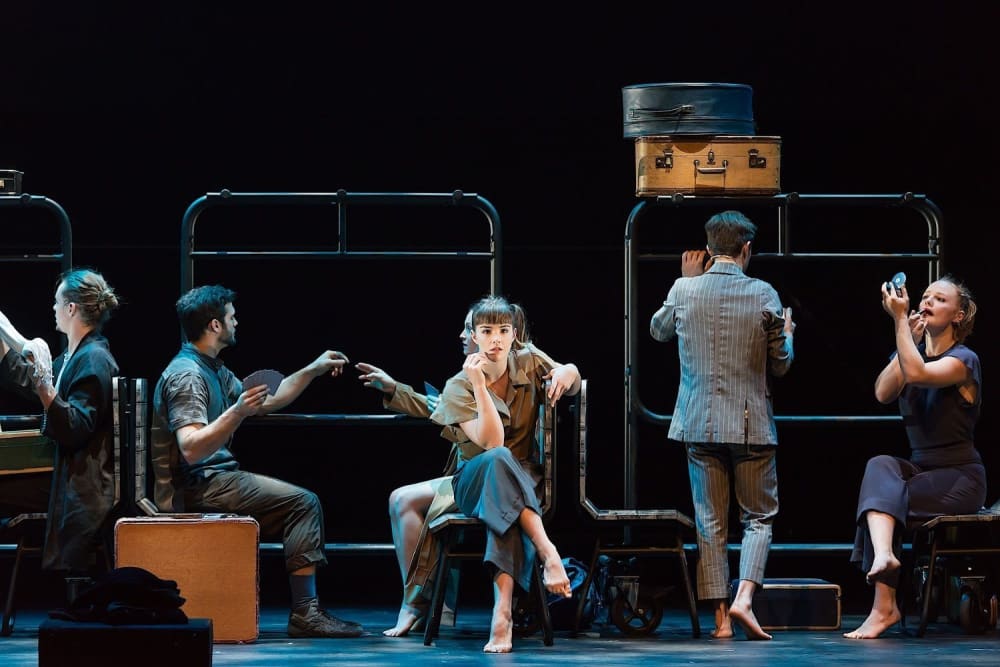 Sublime circus skills and not a sequin in sight.
The Montreal-based The 7 Fingers company was formed by seven Cirque du Soleil breakaways to strip the glitz from the traditional circus routines and retell the thrilling acrobatic skills in an emotional live experience.
Some 19 years and a pandemic performance drought later and its signature fusion of dance, theatre, circus, music and multimedia is back with a vengeance with co-founding artistic director Shana Carroll responsible for writing, choreography and direction.
The Dance Consortium's 47th UK tour, Passagers is a piece of contrasts: light and dark; speed and stillness; departure and arrival seen through the device of a train journey. The interplay between travellers who break free from the monotony of reflective windows and mile after mile of industrial landscape and blurred countryside creates magical moments of breathtaking daring, superhuman strength and cringeworthy contortions.
Louis Joyal's opening somersaulting and full twisting back as he is thrown in the air by his colleagues is impressive enough but just a mere soupçon of what is to come. There is aerial queen Sabine Van Rensburg weaving magic with silks, hoop and, with Marilou Verschelden, performing stunning trapeze work; Lucas Boutin defying gravity on the Chinese pole; Joyal and Samuel Renaud awe-inspiring in the climatic Russian Cradle; Anna Kichtchenko cheekily commanding hula hoops; Pablo Omar Pramparo's clubwork impressive and Maude Parent's lithe 'body deconstructions' inhuman.
A jazz, ballad and hillybilly soundtrack, with some live vocals and instrumentation by the company, accompanies tumbling, athleticism and balance… and so much more. Colin Gagné, in collaboration with Jean-Sébastien Leblanc (contortion, hula hoop and trapeze arrangements) is responsible for music, lyrics, sound design with a little help from Boogát (juggling lyrics) Freyja Wild ('Roaming Song' lyrics) Jérôme Guilleaume (juggling arrangements) while the Opening and Epilogue based on a theme by Raphael Cruz.
With the gaps between showcases filled with superbly synchronised dance, balletic movement and gymnastic sequences, humorous interludes and even an explanation of Einstein's theory, Passagers is clever, confident and exhilarating but is slightly overlong and, at times, the train of thought vehicle almost indulgently contemplative. Nevertheless, an impressive treatise on trust and an entertaining spectacle.
Reviewer: Karen Bussell