Passing On
Mike Kenny
Santé Theatre in association with Little Angel Theatre
Rosemary Branch Theatre
(2011)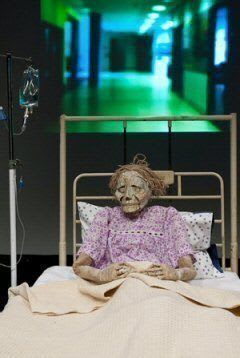 Passing On is a piece of verbatim theatre created from interviews with health professionals and bereaved relatives which were part of a study conducted by researchers at the University of Warwick from 2005-8 which were then edited into this form by dramatist Mike Kenny. It is part of an on-going collaboration between researchers led by Gillian Lewando Hundt and theatre practitioner and director Claudette Bryanston.
Framed by the making and remaking of a hospital bed by a nurse and an auxiliary, this concentrates on the experience of one West Midland couple when the wife's ageing mother becomes ill and unable to care for herself through to her death.
To set the atmosphere the audience are issued with waiting room numbered tickets as they enter and find themselves faced with tabs in the form of hospital bed curtains, a couple of plastic chairs in front of them with the sort of magazines most of us rarely see outside waiting rooms and hairdressers. When a hospital chaplain comes in to greet them the hospital atmosphere feels all too familiar.
There are occasional interventions in which the chaplain, doctor, mortuary porter and a nurse make their personal contributions, commenting on the difficulties and criticising the deficiencies of treatment and care for those approaching death to give the viewpoint of the professionals, and of course we also meet them as part of the action.
The couple, Joyce and Jim, and played by Alison Belbin and Paul Nolan and I cannot imagine them being played better. These are performances that catch the anger, frustrations and bafflement brought by the responsibilities they take on as gentle caring people. Being verbatim based, everything they say feels absolutely natural and with these actors each phrase they speak seems to come freshly to them. They seem the real thing and are very moving, though not without a sense of humour. The relationship with the mother feels real, especially in the physical contact they have with her as they help her. That is doubly impressive because at the same time they are also together playing the mother, for they are operating the puppet figure who becomes her and providing the occasional vocalisation needed, though she says nothing beyond occasional grunts and murmurs. It is a surprising achievement for actors who apparently had no previous experience of puppetry and not a great deal of rehearsal. They are greatly helped by the work of puppet maker Sue Dacre who provides a face that is unchanging yet seems able to present the whole gamut of emotion, sad and pensive, gritted with pain or relaxed and beautiful.
The play avoids particular horrors or theatrically tragic moments. This is the ending of an ordinary life with ordinary people. However painful these events are to those concerned there is no terrible abuse or wrong diagnosis, simply the straightforward and totally honest telling of a typical situation, which is what makes it so real and effective while the methods used make it an effective and gripping piece of theatre.
Paul Magson as the chaplain and in other roles, especially as a caring and responsible mortuary man, and Bharti Patel as a doctor and various other roles, including a moment as a pregnant mother which points the different attitudes to birth and death, turn in equally effective performances and a great deal of credit must also go to Claudette Bryanston's direction.
Passing On is a play that works as a personal story but it raises a whole series of issues and it is leading to lively debate about them.
"Passing On" plays at the Rosemary Branch Theatre until 31st October 2011
Reviewer: Howard Loxton