Passing Strange
Book & Lyrics by Stew, Music by Stew and Heidi Rodewald, Directed by and Created in Collaboration With Annie Dorsen
The Belasco Theatre, New York City, USA
(2008)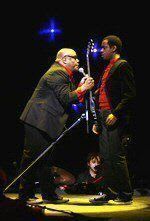 Our former Edinburgh reviewer, Rachel Lynn Brody, has moved back to the United States and is now giving us the occasional taste of US theatre.
A youth (Daniel Breaker) grows up in a good home, with a loving family, and after trying and failing to encourage his friends into an abortive career as punk rockers, he heads off to Europe. There, he seeks reality and understanding, first with trusting, open souls in Amsterdam and later with a faction of socialist Berlin artistes. Ultimately, he realizes that he has missed the chance to say good-bye to the one person who loves him unconditionally, and through it all.
This might sound like a fairly typical coming-of-age tale; misunderstood artist seeking epiphanies; what makes Passing Strange such a compelling experience is that while the youth conducts his search, the audience is coaxed through his journey by the expert ministrations of Stew - the man at the core of this production.
With songs that refer to punk rock, hippie funk, psychedelic club beats, and a number of other genres, Stew conjures up a tale that is more inclusive than you might first suspect, given how much the show has received praise for being a musical about the experience of being black in America. It is this, of course, but it is also about being a foreigner - whether because you have moved to a new country, or simply because you don't quite fit in where you were born.
A recurring theme in the piece is how, despite claiming to be on a quest for reality and understanding, the youth finds himself leaving situations over and over again - "Just when it was starting to feel real." Late in the second act, Stew shares an observation from a (perhaps fictional, perhaps factual) friend who came to the dress rehearsal; that the things Breaker's character is looking for in life can actually only be found in art.
In the modern era of reality television and 24-hour-video-internet-hookups, what people choose to acknowledge as 'reality' - whether it be edited based on their time, their willingness to engage with current events, their use of substances and bad habits to pass the time - is more and more constructed and controlled. In Passing Strange, it is the characters who choose how they will experience their world (although the Berlin art commune the youth encounters argues otherwise). This luxury is being more and more lost to us as we view the world through the eyes of corporations and the media, rather than through direct experience. "Punk rock was a marketing strategy," claims Passing Strange, and given how marketed today's pseudo-punk-pop bands tend to be, this is a difficult claim to dispute.
Passing Strange raises many ideas and issues, and for all its Broadway success, it is still an honest piece of theatre which challenges its audience to question preconceptions and think for themselves.
Reviewer: Rachel Lynn Brody