A Passionate Woman
Kay Mellor
Coliseum Theatre, Oldham
(2011)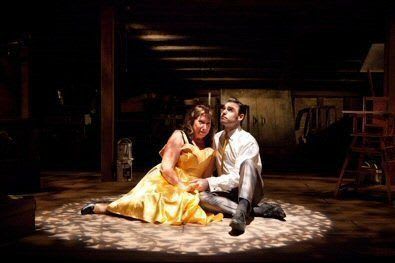 In a co-production with the New Wolsey Theatre in Ipswich, Oldham Coliseum has revived Kay Mellor's popular 1993 play A Passionate Woman with the added attraction of the playwright herself in the lead role, which she originally based on her own mother.
Mellor is Betty whose son Mark is about to get married to Jo, but she has decided to hide out in the loft when she should be getting ready to leave for the wedding. Mark tracks her down and tries to persuade her to descend without success, but then things become more complicated when the ghost of a Polish neighbour with whom Betty had an affair before Mark was born appears, seen only by her.
The action steps up a gear in act two as husband Donald enters the fray and they all spill out onto the roof—and nearly off it in Mark's case. Just as it seems Betty cannot climb any higher, there is a great coup de théâtre at the end to prove us wrong. The play takes a very interesting approach to looking at certain family issues about ageing, the mother-son relationship, a marriage that has been cold for years and the memory of a brief but intense past love affair.
These interesting ideas, however, are not always implemented as effectively as they could be. Betty has a few monologues to the audience that are structured rather like observational stand-up routines but with rather weak jokes, and some of her conversations break out into short versions of these. The Blithe Spirit touch with the ghost happens rather late in act one and is a little under-used, and it isn't really clear what his compelling reason was for coming back from the dead. The dialogue often over-explains everything, using twice as many words as strictly necessary to get the point across, and some of the conversations go round and round in circles.
Mellor in some ways fits the character very well, but she doesn't succeed in bringing together all of the aspects and eccentric behaviour of the character to make Betty a believable person. Anthony Lewis is great as the exasperated son Mark and James Hornsby is bad-tempered husband Donald, but he manages to find genuinely touching moments in the play. Amy Olive makes a very brief appearance at the end as bride Jo.
As always, Foxton has produced a very impressive set, which for most of the time is a simple but very authentic-looking attic with all of its accumulated, dusty junk, but there are some technically challenging effects much later in the play that he has pulled off superbly well.
It is interesting to see Mellor play her own lead role in a part based on her own late mother, but while there is some decent humour, an interesting premise that has plenty of entertainment value, some good ideas and some clever special effects, the dialogue and the structure do not show them at their best and the time doesn't pass as quickly as it should for a frantic comedy with pretensions towards farce.
Running to 4 June 2011
Reviewer: David Chadderton