Patience or Bunthorne's Bride
W.S. Gilbert & Arthur Sullivan
Regan De Wynter Productions
Union Theatre
–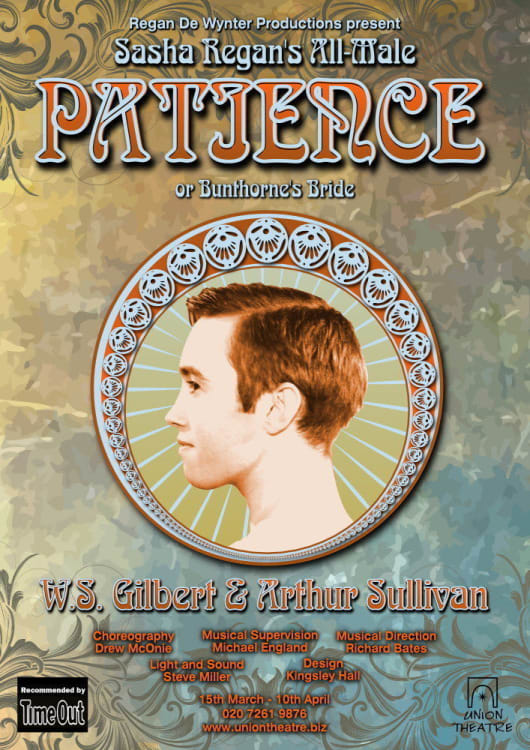 Following her scintillating all-male productions of The Pirates of Penzance and Iolanthe, Sasha Regan has done it again with this all-male production of the G & S send-up of the empty excesses of the aesthetic movement.
Patience pokes fun especially at the vapid poetry and self-conscious posturing of adherents to this artistic style and, although its characters are not direct caricatures of contemporary literary celebrities, the original 1881 production did make visual reference to the clothes and behaviour favoured by poets Algernon Swinburne and Oscar Wilde and painter James McNeill Whistler. Such allusions might not mean much to a modern audience but the poseur poets Reginald Bunthorne and Archibald Grosvenor and their followers are still affectedly ridiculous.
The plot, which centres around milkmaid Patience (Edward Charles Bernstone) with whom poet Reginald Bunthorne (Dominic Brewer) has fallen in love. A chorus of "twenty love-sick maidens" dote on him, rejecting the brigade of Dragoon Guards who used to be the object of their affections.
Patience says she has never fallen in love but promises one of the maidens that she will as soon as possible. When another poet, Archibald Grosvenor (Stiofàn O'Doherty), turns out to have been the little boy she once gave her heart to, he seems perfect object for it, except there is a problem. She believes that love must be unselfish and he would make her happy, so rules him out.
Bunthorne decides to raffle himself; the dragoons decide they will pass themselves off as aesthetes to win back the maids and Grosvenor... well you can see how silly it is. But unrelieved silliness can soon stop seeming funny, but this is a delight from start to finish...
The clever contrivance of Gilbert's libretto and the pace and build of Sullivan's tunes certainly hold the attention but director Sasha Regan and her choreographer Drew McOnie are also full of extravagant invention. Designer Kingsley Hall has set it on a swirling stage cloth beneath the hanging branches of a tree, that feels like a scene from a children's book illustration by Dulac, and dressed it with the dragoons in a uniform that suggests feather-hatted William Tells and the ladies in short 1930s frocks and cardigans that go well with their (male) flat chests and short haircuts.
Milk maid Patience doesn't have a yoke and pails but the tiniest little crate of bottles complete with straws. She's wearing shorts but femininity is added with dainty frilled socks; all the others are in plimsolls, except plain Lady Jane (Sean Quigley) who is in shoes and calf-high stockings.
It is all rather like something happening on a summer lawn, sometimes at night with little candle lanterns, a tea party often in progress. I wonder whether the idea for so much tea pouring and tea drinking business came from a well known contemporary teapot made in the form of a wrist-and-elbow-angled aesthetic poet.
Of course it's camp, but the key to the success of these all-male productions is that, like the good pantomime dame, although they may meticulously ape clichéed female mannerisms we never for a moment forget that these are men. Gilbert liked creating Dame-like characters (most noticeably Katisha in The Mikado), something that Sullivan tried to rein in, and played by women they hardly make him a proto-feminist. Male players remove the sexist sting and allow us guilt-free laughter. The same exaggeration is carried though to all the playing, never more appropriate than here, though almost all Gilbert's scripts have an element of parody, of both society and other theatre genres in Patience it seems particularly extreme.
Under Richard Bates's musical direction it is well sung with rousing vigour and clear diction. Where do the producers find so many amazing male voices? O'Doherty's narcissist Grosvenor is darkly and excessively romantic, Brewer's Bunthorne appropriately pretentious, revealing a real person later and Bernstone's Patience thankfully gives us more charm than simper. I particularly liked Quigley's Jane and Thomas Heard's Major Murgatroyd leading his soldiers but this is a strong cast throughout working as an ensemble that entirely earn their warm reception from an enthusiastic audience.
Reviewer: Howard Loxton