Patience or Bunthorne's Bride
W S Gilbert and Arthur Sullivan
Charles Court Opera
Wilton's Music Hall
–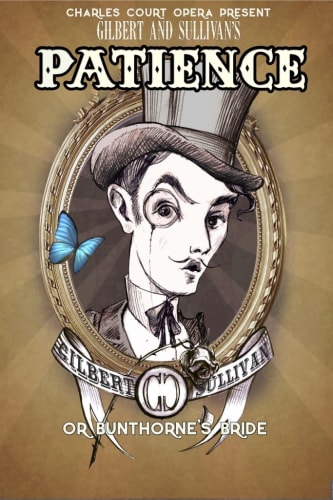 G & S's 1881 satire on the aesthetic movement is set outside Castle Bunthorne, home of aristocratic poet Reginald Bunthorne (modelled on poets like Swinburne) who is surrounded by twenty lovesick maidens who dote on him.
John Savournin's Charles Court production makes that the bar of a pub called The Castle (where milkmaid Patience is now a barmaid) and cuts that score to just three. However, this is a company where less is quite definitely more, whether it is the piano transcription played with such elan by musical director David Easton or Kerry Holden's choreography for this revival of the company's lively 2014 production.
Aesthetic fads may not mean much to a modern audience, but with the director himself as a kohl-eyed, ringleted Bunthorne in a flowing velvet coat setting the style of indulgent excess, Simon Bejer's costumes suggest New Romantic and Goth sensibilities and Savournin's performance sets a pattern of extravagance for his fans to follow that contrasts with the simplicity of Catriona Hewitson's Patience.
While Lady Angela (Meriel Cunningham), Lady Saphir (Jennie Jacobs) and a more mature Lady Jane (Catrine Kirkman makes her a grotesque in need of a walking stick) all fawn on Bunthorne, in private, he himself mocks aesthetic pretensions.
A rival poet, Archibald Grosvenor (Matthew Siveter), turns up and the maidens transfer their affections. Meanwhile, Bunthorne has fallen for Patience but Archibald is her past love, returned after 15 years away. It gets very complicated as they try to live out their ideas of what love should be with Patiience sighing, "love is a plaintive song," in a beautifully sung aria that contrasts with the patter songs and jollity.
A trio of army officers—Col Calverley (Matthew Palmer), Major Murgatroyd (Dominic Bowe) and The Duke of Dunstable (David Menezes)—who want to marry the maidens now attempt aesthetic dress and behaviour in the hope of winning them over. It is one of the funniest episodes in this zany extravaganza full of self-parodying performances.
Of course, it is all very silly but, from the moment the maidens help themselves, pouring stiff drinks at the bar, you just have to drop disbelief and, encouraged by Gilbert's rhymed verses and Sullivan's lively score, follow the lead that the cast give and go along with it. It then becomes great fun.
Reviewer: Howard Loxton