Patience
W S Gilbert and Arthur Sullivan
English Touring Opera
York Theatre Royal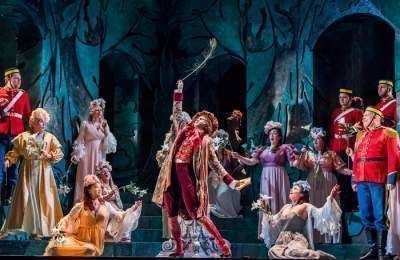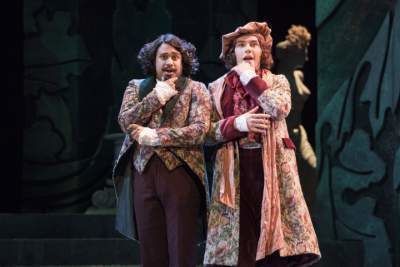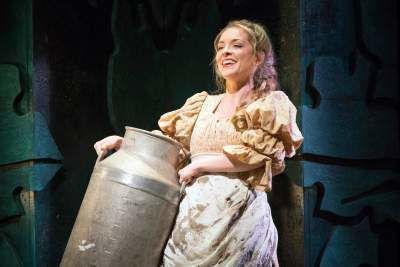 While Patience (1881) doesn't enjoy the same popularity as either The Pirates of Penzance (1879) or The Mikado (1885), it remains one of Gilbert and Sullivan's wittiest comic operas. Although this iconic musical duo has their fair share of detractors—Sir Jonathan Miller memorably described their work as "UKIP set to music"—English Touring Opera's new production proves that their work still has the power to amuse and entertain.
In Patience, Gilbert and Sullivan set their satirical sights on the craze for aestheticism that swept Britain during the late 19th century. The ethos of "Art for Art's sake"—the idea that art should be principally concerned with beauty rather than conveying ideas—was the subject of lively parody in the Victorian press, inspiring numerous wicked articles and cartoons.
In this typically droll work, a group of lovesick maidens pine for the affections of Reginald Bunthorne (Bradley Travis), a monstrously conceited poet. However, he only has eyes for Patience (Lauren Zolezzi), a beautiful young milkmaid, who has not experienced love since she was a small child.
Things are further complicated by the arrival of the maidens' former lovers, the Dragoon Guards, who are bewildered to discover that they've been usurped in the hearts of their loved ones by a foppish aesthete. However, Reginald soon finds himself facing stiff competition in the form of another poet, Archibald Grosvenor (Ross Ramgobin), who bewitches the maidens with his devilish good looks, and turns out to be Patience's long-lost childhood sweetheart.
Despite being named after the romantically confused milkmaid, Patience is dominated by Reginald and Archibald, who are modelled on a variety of real-life Victorian aesthetes, including Oscar Wilde, Algernon Swinburne and Dante Gabriel Rossetti. A production of Patience relies hugely on the calibre of the performers who play these two roles, as their strange, affected behaviour provides many of the evening's biggest laughs. Fortunately, Bradley Travis and Ross Ramgobin excel in these parts, both clearly relishing the opportunity to play such ludicrous popinjays. The scenes in which they bask in the maiden's attention are hilarious, and their rendition of "When I Go Out Of Door" is a memorable highlight.
The rest of the cast also rise to the occasion. Lauren Zolezzi's beautiful voice and lustrous presence means that Patience is never fully eclipsed by the larger comic figures that surround her. Valerie Reid is terrific as Lady Jane, bringing humour and pathos to the role of a plain middle-aged woman who finds herself afflicted by unrequited love. Suzanne Fischer and Gaynor Keeble both make an impression in the potentially thankless roles of Lady Saphir and Lady Angela.
Not to be outshone, the supporting male performers also give fine performances, particularly Andrew Slater, who copes superbly with the demands of Colonel Calverley's opening patter song. The scene in which Slater, Aled Hall and Jan Capiński swap their military gear for more poetic garb and start striking peculiar poses with flowers, à la Morrissey, was another highlight.
Florence de Maré's designs are splendid, adding immeasurably to the production's sense of period without going (too) over-the-top. Castle Bunthorne, with its statues and archways, is a visually arresting performance space that provides the performers with a variety of different entrance points. The costumes, particularly the Dragoon Guards' striking red tunics and blue trousers, are similarly eye-catching.
Gilbert and Sullivan is an acquired taste and I doubt that this production will convert any staunch G&S opponents. I, however, was riveted throughout its two-and-a-half-hour running time. Although one could argue that director Liam Steel has played it safe with a traditional period staging of the material, he demonstrates an admirable understanding of the opera's strengths. Furthermore, I doubt that even Sir Jonathan Miller could find fault with ETO's excellent orchestra, conducted with panache by Timothy Burke.
ETO's first foray into the world of Gilbert and Sullivan is fresh, fast-paced and funny, and never tests one's patience.
Reviewer: James Ballands