Peaky Blinders: The Redemption of Thomas Shelby
Steven Knight and Benoit Swan Pouffer
Rambert
Troubadour Wembley Park Theatre
–

Listing details and ticket info...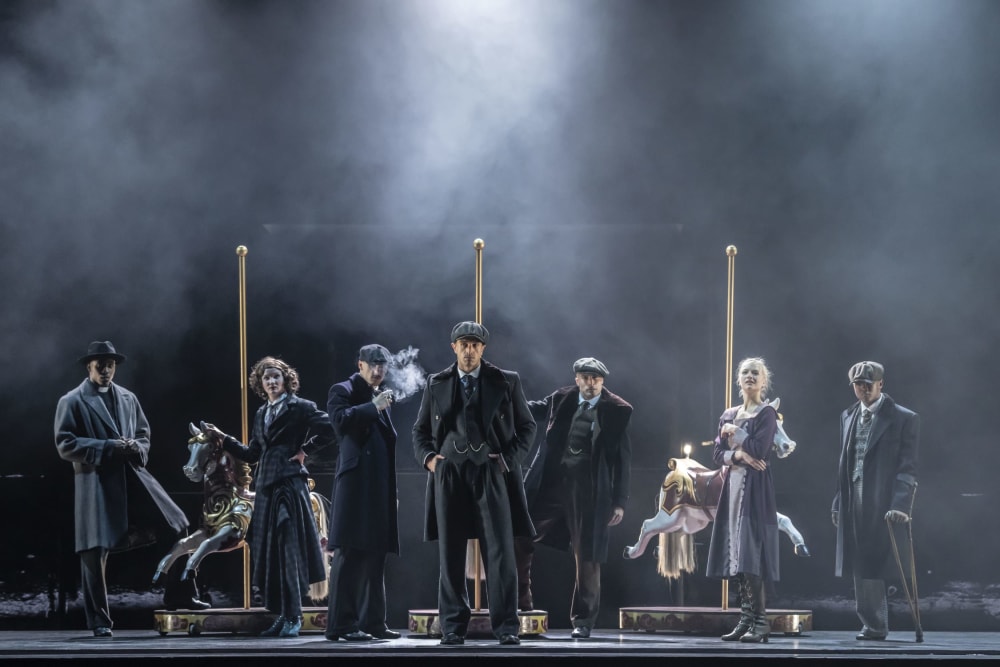 Peaky Blinders, The Redemption of Thomas Shelby stamps out new territory for dance theatre all guns blazing with heavy booted swagger and sassy movement. This brand new show from Rambert is about trusting body language to transmit the power of story with little dialogue and lots of dazzling pyrotechnics.
Based on the cult BBC TV series, Blinders follows the fortunes of the Shelby brothers. The scenario, devised by series creator Steven Knight, is part-prequel, part-dance creation, focusing on Shelby's love affair with Grace Burgess (Naya Lovell) and his agonising grief following her murder. You do not have to be a fan to follow. I've never watched the TV show, but was instantly drawn into Birmingham's post-First World War gang drama with no prior knowledge of the story.
We open onto the voice-over of poet, Benjamin Zephaniah, helpfully introducing the Shelby brothers by name and setting the tone for the night. "You young men of the tunnelling brigade, you are all dead… not dead, but dead inside."
As bodies rise and fall, Shelby and gang stay intact, apart from their inner souls, swallowed up by the bloody chaos of the First World War trenches and regurgitated into murky gang warfare. It's all very Faustian—souls sold for a fistful of jewels and brides shot dead for reparations in gang wars.
The first half is the winner. It is fast-paced and sets the heart racing as the brothers return from war and into the arms of gang leader Polly, an aloof and terrifying character making the tough guys quiver under their peaked caps with no more than a withering glance. Played effortlessly by Simone Damberg-Wurtz, Polly challenges the audience as she stares out, sways and postulates donned in stylish tartan.
Masterful choreography from Rambert's Artistic Director, Benoit Swan Pouffer, is the heart and soul of the show. The superb dancers literally throw themselves into character with glee and relish, lengthening out each movement dynamic to its max from stomping, hip-swaying and sliding across various settings.
It's clearly a dream piece for the company who grab their roles voraciously, fleshing out the rich character cast list from soldiers to street fighters, opulent clubbers and dancers as police dogs.
Guillaume Quéau stands out as the swoon-worthy antihero—all teeth, brawn and masculine prowess, roaring wildly in anguish, while Lovell makes a seductive Grace as the two twist and writhe in a doomed love story that ends in death.
Ensemble numbers are visually thrilling, especially effective when the cast pull together in mini-tableau as if posing for a photo. Such stillness in amongst the flaying arms and high octane movement keeps the drama in focus and renders those images memorable. Performers stare brazenly out into the audience as if to intimidate, then rip their way up the aisles while the spotlights are turned offstage and onto us.
Moi Tran's sets are fabulous. Her standing set is cleverly designed as a large, rectangular moat around the central performance space. Dancers dive and disappear into the moat, used effectively to create a sense of the trenches. Then there is the mood-setting, atmospheric lighting (Natasha Chivers) that wraps the stage in gloom and glamour from the trenches to nightclubs and fairgrounds.
Live music is another coup. It brings depth of atmosphere and authenticity to the set. There's a maudlin routine to Nick Cave's "Red Right Hand", one of the many familiar songs that Roman GianArthur knits together to create a powerful and catchy score driving the rhythmic pace of the evening.
Act II feels a little long. A broken man following the loss of Grace, Shelby is reduced to becoming an opium addict and the narrative veers from gang wars to personal journey, battling it out with recurring demons.
Yet what a roaring success to see contemporary dance express such narrative depth, turbocharging through Shelby's drama with the force of a fighter jet. The evening may bring plenty of primetime entertainment and commercial tricks from fireworks (literally) to rock music, but ultimately it is the dancers themselves that carry us through the murky underworld and out towards the light of Redemption.
Reviewer: Rachel Nouchi