Pebbles on the Beach
Joanna Pinto
Weaver Hughes Ensemble
Old Red Lion Theatre, Islington
(2008)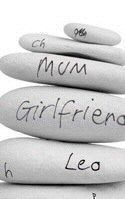 Leo binges on Carling, wrestles with demons and has a penchant for forgetting things: let us hope he forgets his own play. Pebbles on the Beach was as uncomfortable to sit through as its title suggests.
Joanna Pinto's latest offering is a fractured affair. The narrative is a chaotically assembled melange of flashbacks and rewinds, bundled on top of one another with no apparent sense of stratagem. Linear may not be fashionable, but neither is gratuitous distortion.
We learn, incrementally, that Leo (Michael Armstrong) was the child of a twelve-year old rape victim (the scene was farcically played out by two women, one of whom was dressed like a plumber), and was subsequently adopted - a fact revealed to him at eleven years old. The revelation proves the fulcrum of Leo's troubled soul, and the genesis of a personal odyssey whose only direction is evasion.
Rejected himself - albeit justifiably- Leo is commitment-phobic, bent on rejecting the world.
Armstrong will divide juries with a performance that displayed talent - his timing and energy are notable - but, in equal measure, evoked a spoilt, whiny child who needs nothing more than a light-sabre (Star Wars gags litter the text) up a nostril.
The remainder of the cast do little to inspire commitment on the part of the audience. Susannah, Leo's on-off love interest; Maggie, Leo's biological mother, and Phil, his chino-clad Dad, all conform to Pinto's tepid characterization. The fault, it would seem, lies less with the actors (Jenny Rowe, Annabel Clarke and Ian Draper respectively) and more with Pinto's writing and Timothy Hughes's direction.
The creative team behind Pebbles on the Beach (Weaver Hughes Ensemble) sought - by my reckoning - gravitas, pathos and naturalism, furnished within a narrative laden with intricate, cerebral issues (adoption, self-esteem, memory). The ambition is laudable, the execution is not.
The Old Red Lion Theatre's intimate, cavernous environment - qualities that often aid a production's impact - only served to sharpen the pain. Further, the shifts in lighting and sound were as seamless as a cricket ball.
The ramifications of adoption are lasting and multifarious. It being National Adoption Week, Pebbles on the Beach is a timely advertisement for a worthy, mutually benefiting initiative - children need love and homes; people have both to offer. Yet, if Leo, the arch brat at the centre of this decentred psycho-drama, is anything to go by, potential adopters should proceed with caution.
Running until 22nd November
Reviewer: Ben Aitken