Peggy for You
Alan Plater
Hampstead Theatre
–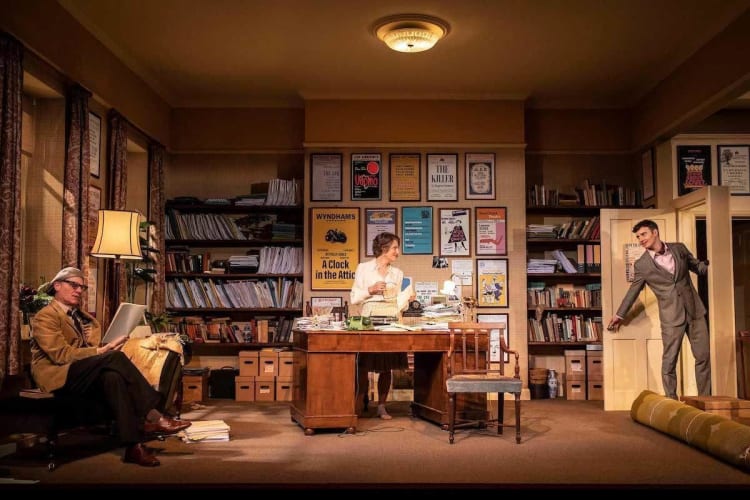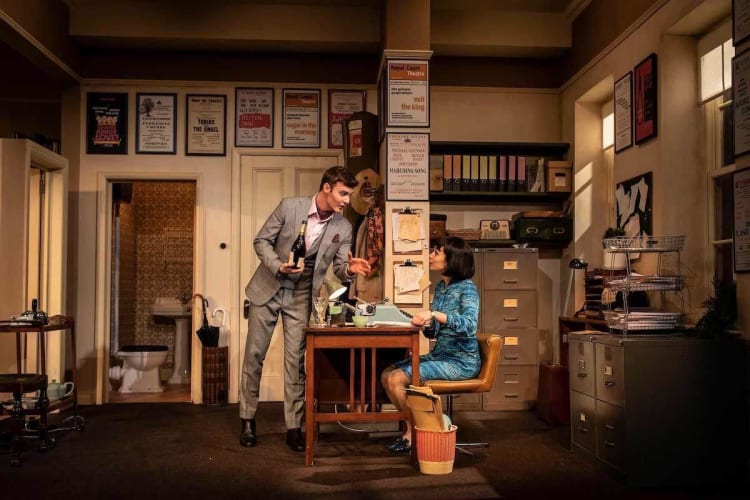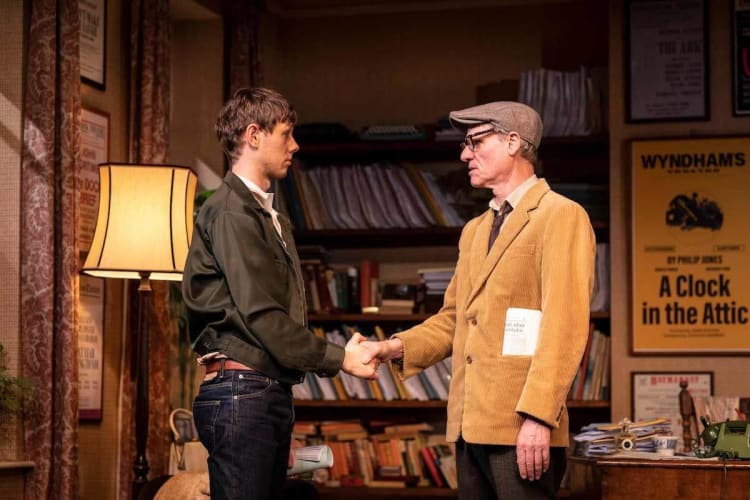 Peggy is Peggy Ramsay, the idiosyncratic play agent who represented a stable of leading British dramatists from the 1950s onwards. Her client list included Robert Bolt, John Arden, Edward Bond, Joe Orton, Caryl Churchill, Christopher Hampton, David Hare, Stephen Poliakoff, Alan Ayckbourn and many more leading writers, including of course Alan Plater, but in this affectionately funny portrait, he doesn't feature real life colleagues but presents us with three fictional dramatists.
Success story Philip, who is being wooed by Hollywood, is taking her for lunch; he brings in champagne to celebrate announcing he's getting married. "You can't be you're gay," is her response. She's got that wrong but she is interested only in writers' work, not in their private life. Naive newcomer Simon has a first night tonight too (his very first first): a rehearsed reading in a room over a pub. Geordie Henry is an old hand; he calls Peggy "the wicked witch of the West End". He's had enough and plans to part company and change agent.
Plater presents an imaginary day in the agency's Godwin's Court office. The whole play is an invention but it draws on three decades of acquaintance while a client on her books.
Peggy for You, named with the phrase her writers heard as her assistant put through a call from her, doesn't set out to explain how she nurtured her writers and became such an influential agent. It is a picture of Peggy's personality, a comedy presenting her eccentricities. Tamsin Grieg captures them from the moment we first see her, quirkily curled up on a chaise-longe. Self-confessedly hopeless with names, she muddles up Olivier and Peter Hall, two Alans, both in Yorkshire (we can guess Ayckbourn and Plater), get sent cheques each meant for the other. She is cavalier in the way that she deals with Hollywood's moguls, putting the phone down after a call to the producer chasing Philip, she admits, "I've just lost you a hundred thousand pounds."
This is a woman who doesn't care about conventional success or making masses of money. It is the work, the quality of the writing, the art, that interests Peggy Ramsay. In Simon's case, she has spotted potential in the writing of two scenes of the play he has sent her even though she tells him, "it isn't really a play, dear." When he asks her, "what is a play?" that becomes a sort of running gag, a question she puts to all the other writers to whom she speaks but never herself answers.
As director, Richard Wilson draws forceful performances from all his cast, neatly timing the overlap of action between the two rooms of James Cotterill's setting. It is a production that gets its laughs by never playing for them.
Danusia Samal plays Peggy's patient assistant (whom she calls Tessa, though that is probably the name of her predecessor). It isn't entirely surprising that for relaxation, Tessa resorts to opium (which Peggy throws away thinking it's dog shit, then of course has to try it herself).
The writers, Philip played (Jos Vantyler) and Simon (Josh Finan), aren't disguised portraits, Plater said they are an amalgam of people, though admitting that there is a lot of Henry Livings in rebellious Henry, whose affection for Peggy is clear in Trevor Fox's performance despite his decision to leave her.
Watching conversations on 1960s telephones, Peggy and Tessa pounding away on typewriter keyboards, no computers or mobiles, I couldn't help wondering how she would handle things now.
This revival of Peggy for You is a look back to the past in two ways: it is part of the Hampstead Theatre Original series which were planned to celebrate the theatre's 60th birthday; it premièred at Hampstead in 1999.
Reviewer: Howard Loxton