Pélleas & Mélisande
Claude Debussy, libretto Maurice Maeterlinck, translated by Hugh MacDonald
Opera Theatre Company
Ulster Bank Belfast Festival at Queen's The Great Hall, Queen's University, Belfast, and touring
(2008)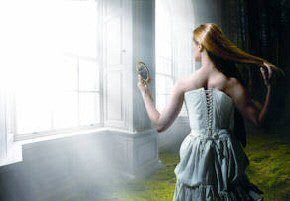 When neither Owen McCafferty's take on Antigone or Lucy Caldwell's brush with the Balkans may have lived up to their expectations, Belfast's theatre aficionados turned in their search for Festival solace to another Irish company, the Opera Theatre Company, an institution which places almost as much emphasis on the second word of its title as it does on its first.
After all, they argued, first flippantly, that Lady Chatterly's Lover was first reviewed as a gamekeeper's manual and, then more seriously, that at the core of Debussy's offering are the darkly powerful words of a Nobel Prize-winning playwright, the Belgian Symbolist and Existentialist, Maurice Maeterlinck.
And so it came to pass. Produced in the round inside Queen's University's toweringly faux-gothic Great Hall, lit sepulchrally by Tina MacHugh, Annilise Miskimmon's sure-footed direction of Maeterlinck's text offered a work where the symbolism of water - Mélisande's tears, her mysterious arrival by sea, her crown lost in a stream, her wedding ring thrown in the fountain, the foul vaginal pool shown by her potentially murderous husband Goland to her lover Pelléas - turned into to an existential essay on death's inevitable acceptance, delivered throughout in perfect diction which would and should be the envy of many a thesp.
Soprano Claire Booth's wan yet busty Mélisande is fetchingly vulnerable in both her shift and in her nipple-revealing Rapunzel moments, while baritone Robert Poulton's tweedy Golaud, her brutal husband, contrasts tellingly with that of her lover, Thomas Walker's pale linen-suited Pelléas, Golaud's half-brother.
Inside the dark wood-bound mansion the half-brothers' war hero father, bass Jonathan Best as the smoking-jacketed be-medalled Arkël, would have his line continue, no matter who is pregnant by whom. As a massive and silent butler, Victor Feldman, adds a touch of seasonal Halloween terror by snuffing out the candles one by one, 10 year old boy soprano Eoin Dexter turns it into the Turn of the Screw as pianists Hugh Tinney and Mairéad Hurley, tighten Debussy's already melodramatically taught score.
Reviewer: Ian Hill