The Penelopiad
Margaret Atwood
Royal Shakespeare Company in association with Canada's National Arts Centre
Northern Stage, Newcastle
(2007)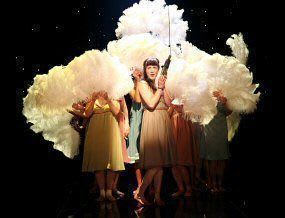 If The Penelopiad is nothing else, it is an undoubted triumph for actress Penny Downie. As Penelope, wife of Odysseus telling her story from the Halls of Hades, she gives a virtuoso performance which sweeps the audience along, giving us a totally different perspective on the faithful, chaste Penelope of the Odyssey - presenting us, in fact, with the woman behind the myth.
The structure of the piece is fascinating: part monologue, part Greek tragedy and part, at one stage, Busby Berkley musical! It tells the parallel stories of Penelope from her childood to her marriage to Odysseus as a 15 year old to his 20-year absence, culminating in his return, rescuing her from the depredations of the suitors, and of her maids, whom Odysseus hanged on his return.
An all-female cast of twelve (plus Downie) play all the parts, including Penelope's parents, Odysseus, her son Telemachus, Helen of Troy, sailors, monsters such as the Cyclops and the Sirens, and, of course, the Maids. And herein lies somwhat of a problem. Downie's Penelope is totally naturalistic (in so far as it can be, seeing that she is speaking to us from beyond the grave and taking into account the wry humour which is present in what she says throughout) but the rest of the characters are far from fully realised: Derbhle Crotty's Antinous (Penelope's father) and Philippa Domville's Naïad (her mother) are wonderfully comic creations but no one could ever take them seriously, and although Mojisola Adebayo captures the adolescent mix of sulkiness and arrogance of Telemachus perfectly, we are always conscious that this is a women playing a boy. The same is true to Sarah Malin's Odysseus: she is very obviously a woman playing a man.
This is not to be critical of any of them - or, indeed, of any of the cast, for almost all play men at some stage - but a comment upon the way the piece is structured. This is storytelling rather than a conventional play and Margaret Atwood and director Josette Bushell-Mingo use whatever means seem suitable to hold the audience's interest, and foremost among these is humour. All the characters are drawn with a light touch, tending towards - but not actually reaching - caricature. Helen of Troy, for example, is almost an airhead.
It makes for a very entertaining evening - the one and three-quarter hours (no interval) flashed by - but it is interesting that (if I may inject a personal note) I have found this one of the most difficult reviews to write because I found myself trying to apply the wrong standards. The Penelopiad is highly theatrical but is far from being a conventional play. We are not drawn in but are on the outside looking in, being entertained and, yes, having the myth illuminated for us. It's great fun.
Reviewer: Peter Lathan