People, Places & Things
Duncan Macmillan
Headlong, National Theatre, HOME, Exeter Northcott Theatre
HOME Manchester
–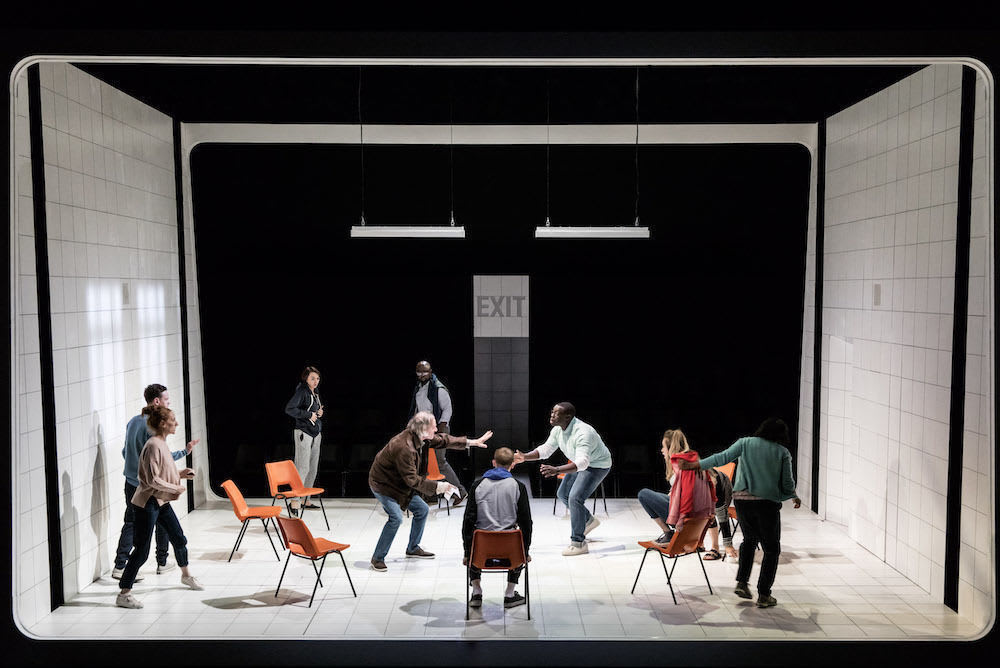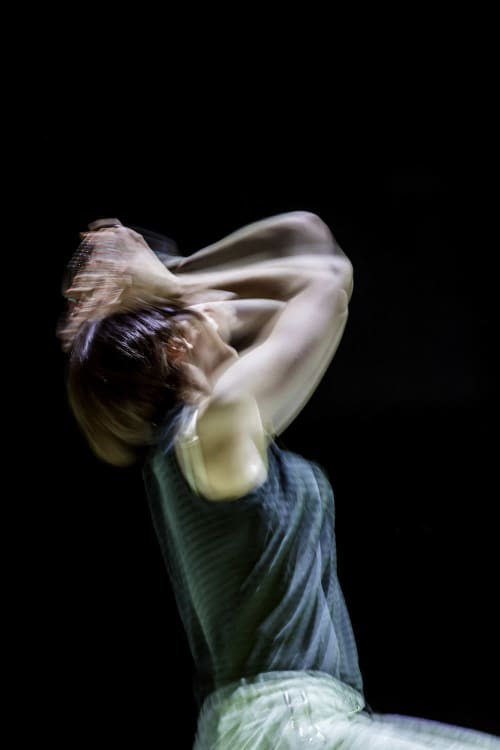 People, places and things and their associations are the biggest dangers to someone recovering from addiction; so we learn as playwright Duncan Macmillan incisively gets into the mind of drug- and alcohol-dependent actress Emma (Lisa Dwyer Hogg) and, through Jeremy Herrin and Holly Race Roughan's spectacular production, takes the audience right in there too.
The play opens during a disastrous performance of The Seagull when our protagonist is having a breakdown on stage (viewed by some of the audience sitting on the stage through a white cloth) before the stage world collapses in a whirl of action and loud music and she is checking into a clinic—as Nina, keeping with the role of Chekhov's heroine.
These scene transitions are of the choreographed type that have become quite the fashion, but here they are conceived brilliantly not just to move the plot along visually together with the scenery but to give the audience a sense of Nina / Emma's confusion while not leaving them confused.
In the clinic, she is resistant to every form of help offered to her and can certainly hold her own intellectually against the doctor (Matilda Ziegler)—who, when her patient brings Foucault, Derrida and Barthes into her argument against the programme, asks whether she believes it was postmodernism that caused her addiction. She is even resistant to lovely care worker Foster (Ekow Quartey) and to fellow patient Mark (Andrew Sheridan); the latter seems to get her to open up in private, if not in the group therapy sessions, but then she reveals that it was all a very convincing lie—or was it? After all, she lies for a living.
Her resistance to treatment results in a lapse into her former lifestyle and eventually a return to the clinic, this time determined to submit to their methods and make a success of it. Later, she quite movingly talks of the realisation that for years she thought that the people who surrounded her were trying to make her miserable, whereas they were probably trying to help her.
However the reunion with her parents (Trevor Fox and Matilda Ziegler), rehearsed in the group therapy sessions in an exercise called "practice", is still not a happy ending—they've heard it all before and the damage has been done. Even right at the end, when she has apparently opened her heart to us, there is a hint that we're still being hoodwinked even about her identity by this practised liar.
The experience is more than just the story, and even more than the stunning performance of Hogg who carries the whole play on her shoulders; when Emma starts to suffer from withdrawal, the effect is reproduced for us through multiple Emmas on stage coming through doors, through walls, out of the bed and everywhere, accompanied by distorted dialogue and various effects.
All of this has been done before, of course, but here it is a perfect marriage of design (Bunny Christie), lighting (James Farcombe), music (Matthew Herbert), sound design (Tom Gibbons), movement (Polly Bennett) and quite subtle but very effective use of projection (Andrzej Goulding) to produce a disorientating, hallucinatory experience that gives some impression of what the patient is feeling.
Apart from stand-out performances from Hogg and Sheridan, the rest of the cast form a perfect ensemble (completed by Michael Balogun, Susan Lawson-Reynolds, Imogen Slaughter, George Somner and Aimee Lou Wood) as well as playing strong individual parts at key moments.
This production is particularly effective in the intimacy of HOME, where it begins a short UK tour, and is a must-see while it is here in Manchester.
Reviewer: David Chadderton