People Show 121: The Detective Show
Devised by Sadie Cook, Fiona Creese, Gareth Brierley and Mark Long
People Show
Old Red Lion Theatre
–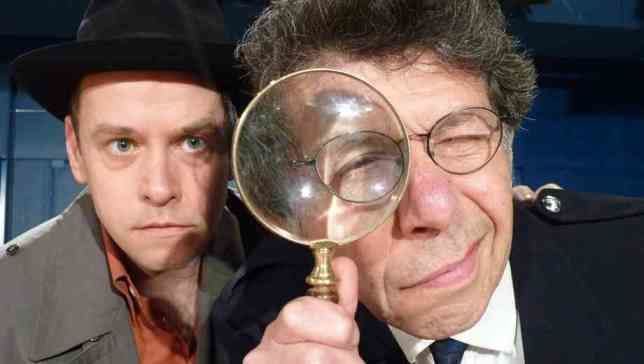 Nearly 47 years since they began in 1966, People Show continue to delight their wild creativity.
This is one of the earliest and surely the most long-lasting of fringe companies, and current cast member Mark Long was one of its co-founders. This 121st show is one of those beautifully organised bits of fun that kids you it's been made up on the spur of the moment.
There is a murder mystery at its heart with a body outlined on the lino and, to set the investigation going, there is a Cluedo board set up ready for players Detective Inspector Brierley and PC Long. Detective Creese should be on the case but it seems she's usually missing, in the canteen apparently, but more likely because Fiona Creese is present instead as the body of murder victim, tour guide or in flashback when she was still alive.
Fiona runs Agatha Christie walking tours, with an emphasis on those days in 1926 when the already famous crime-writer went missing in real life. Gareth Brierley, sans DI mackintosh, sees her and falls in love, trailing after her round town until he can invite her out to dinner. They meet in a strange Italian trattoria where Brierley orders the house speciality. It is seagull salad, is served by Mark Long's oddly-accented Signor Cartalucci along with pasta in a plastic bag.
If that is beginning to sound like a plot, I am giving the wrong impression; this is a mishmash of mad moments, though Brierley gives the telling some cohesion as The Narrator, when he is not too occupied with telling us about his own life as an actor (an out-of-work one).
In this odd world of mime and murder in the Ladbroke Grove Hotel, dirty deeds are somehow linked with Hedy Lamaar and a swastika-decorated condom used by Adolph Hitler. A paper bag headed Hercule Poirot, moustache and eyebrows unmistakable, balletically out-doing David Suchet, frequently flits across the scene; add autopsy and water torture and a running gag of Long's hilarious leg-extensions and you can begin to imagine just how Goonish things can get.
The cast of three, directed by Jessica Worrall with minimalist staging lit by Chanine Yavroyan and music by George Khan, demonstrate that, nearing fifty, The People Show can still be fresh and very funny.
Reviewer: Howard Loxton