Pepperland
Choreography: Mark Morris; Arr and composition: Ethan Iverson
Dance Consortium presents Mark Morris Dance Group
The Lyric, Theatre Royal Plymouth
–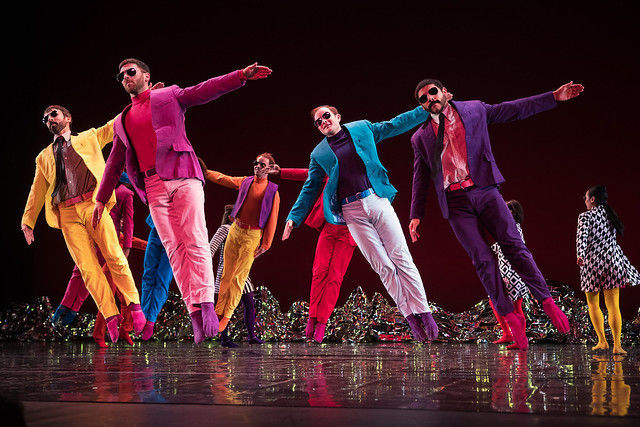 Well it's definitely not a Beatles tribute night.
In fact many of the tracks from Sgt Pepper's Lonely Hearts Club Band are, at times, barely recognisable and there is no opportunity for a singalong—or even clap-along—given pianist Ethan Iverson's jazzy, theremin-heavy arrangements and original compositions.
Pepperland is a conceptual collaboration between choreographer Mark Morris and Iverson, commissioned for the 50th anniversary celebrations of the album in Liverpool, but rather than confine themselves to the proposed one track, the prolific duo did (almost) the lot (plus "Penny Lane" which was originally designated for the LP).
The theme tune is recognisable and baritone Clinton Curtis introduces, in a toneless chant, the celebs who grace the iconic album cover: Marilyn Munro, Einstein, Fred Astaire, Shirley Temple and more, as aviator sunglasses-wearing dancers populate the stage posturing in Elizabeth Kurtzman's lurid '60s clean-cut mod costumes.
And we are off on a breathless 60-minutes of non-stop movement, jazz and blues as the album is deconstructed and extended Iverson-style—with adagio, allegro, scherzo blurring the well-known tunes, altering the timing and adding a weird trippy dimension—and given the vaudeville treatment by Morris with a touch of the frug, Charleston and mashed potato thrown in for good measure.
John Henckens's set is bare save for line of crumpled foil mounds which twinkle and evoke sky, stars, sea and other-worldliness through Nick Kolin's brave lighting.
"When I'm 64" is a mad cacophony of out-of-synch movement with an ever-dwindling line of dancers introducing a recurring theme of isolation from and reintroduction into groups while a "Day In The Life" includes oddly clunky charades. Racing through a playlist including "Within You Without You" and "I Get By With A Little Help From My Friends" plus five new pieces, groups, duos, trios and quartets smooch, leap, lift and romp invoking '60s hedonism, mysticism and joie de vivre.
An acquired taste perhaps, but dynamic and uplifting.
Reviewer: Karen Bussell