Perchance to Dream
Devised, written and composed by Ivor Novello
Finborough Theatre
(2011)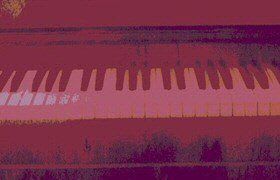 There is no entry for Ivor Novello in the massive 1231-page Cambridge Guide to Theatre, which is surprising since Novello was a national favourite in British theatre from the 1920's to the 1950's. Born in 1893 he died at the early age of 58. His funeral in 1957 drew huge crowds. The Pathé newsreel of the crowds can be seen on YouTube.
He is best known for his musicals (Glamorous Night, The Dancing Years, King's Rhapsody) rather than his plays and film roles; though he did act the lead in the Alfred Hitchcock silent classic, The Lodger.
In his day Novello was one of the biggest box office attractions, the epitome of glamour, and famous for his beauty and profile. He became a household name when he wrote Keep the Home Fires Burning, one of the most memorable songs of World War 1. He caught the nation's mood once again in 1945 with We'll Gather Lilacs in the Spring, the hit song in Perchance to Dream and forever identified with Olive Gilbert.
There has been no full-scale revival of any of his works since his death. The only West End acknowledgement he has had was when Cameron Mackintosh in 2005 renamed The Strand Theatre the Novello Theatre in his honour. (He had lived in a flat above the theatre.)
Perchance to Dream wasn't considered that good when it was premiered; but its old-fashionedness and its nostalgia for a bygone era was exactly what war-weary, Austerity Britain wanted. It opened in April 1945 just before VE Day (Victory in Europe) in May and ran for 1,017 performances. It was his only musical for which he wrote the lyrics. His regular lyricists, Christopher Hassall, was still on active service. The war did not end till September.
The ingredients for its success were his usual mixture of romance, spectacle, tunes and himself in the leading role. Here he played three roles in three different periods: a bankrupt gambling Regency buck who leads a double life as a highwayman; a Victorian choirmaster who is about to elope with his mistress when she learns that his wife is pregnant; and very briefly as a young man living in 1943. The surprise is that the hero in a musical is given no songs. Novello didn't think his voice was good enough.
James Russell, a tall and handsome actor, has his best opportunities during the Regency scenes. Claire Redcliffe (who appeared opposite Russell in the Finborough revival of Quality Street) plays the spirited heroines. Annabel Leventon is well cast as a witty aunt, a role created by Margaret Rutherford.
Perchance to Dream is a collector's item, which is not worth collecting, except for the sake of collecting. Max Peppenheim's revival makes the embarrassing mistake of trying to recreate the totally unnecessary Triumph of Spring dance numbers on the Finborough's tiny stage.
PS. If you saw the film, Gosford Park, you may remember Jeremy Northam's impersonation of Novello at the piano in the drawing-room and Maggie Smith (in her role of caustic dowager) begging her companions at the bridge table not to clap and encourage him to sing more of his songs.
Performances: Sundays and Mondays only: 11, 12, 18, 19, 25, 26 September
Reviewer: Robert Tanitch