Perfect Pie
Judith Thompson
Stellar Quines
Traverse Theatre, Edinburgh, and touring
(2006)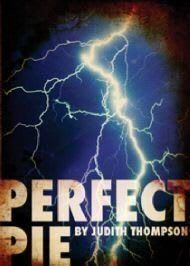 Judith Thompson's play Perfect Pie recounts the re-union of two estranged Canadian women after more than thirty years apart. These childhood friends are brought back together at the insistence of Patsy (Mary Keegan), a housewife and baking enthusiast, who has recently recognised her long missing friend Marie, in her new guise of Francesca (Sarah Collier), a successful actress, whom Patsy had long thought dead. However their reminiscences soon give way to undercurrents of blame and recrimination as they each struggle to understand the other's choices, and through them the tragic events of the last evening they were together.
The play is told partially in flashbacks, in which actresses Lucy Tuck and Kirsty Wood take the roles of Patsy and Marie respectively. This allows the narrative to lead us through the course of their childhood and adolescence, echoing and setting up the motivations of the two pairs throughout. This is handled solidly by all four of the leads, each tackling not only a script that is as wordy as it is complex, but also a rural Canadian accent far removed from their natural lilts.
The script's well-balanced pacing allows each of them the opportunity to shine under Maureen Beattie's excellent direction, the measured pain and depth of the older women's performances sitting comfortably beside the exuberance and occasionally gleeful deliveries of their younger selves.
Extra mention must go to Keegan and Tuck, who manage to carry themselves in perfect compliment to each other, without any hint of misstep. Nor is the lack of such parity any denigration to the acting of Wood and Collier, as the story unfolds we understand clearly the changes that have been wrought by the transition from Marie into Francesca.
The kitchen setting of the stage is comfortable and realistic, serving to show that despite all things, there are some constants. Whilst there is the regular thunder of the train passing by, shown with a yellow light that becomes more and more ominous as the play progresses until its final semi-ambiguous resolution.
The production is overall a masterful piece, held together brilliantly on every count. The only slight complain that could arise would come from the fact that the script could perhaps have done with being shortened ever so slightly as there is a loss of tightness around the middle. Then again, perhaps that too is an intentional metaphor.
Touring till 29th April
Reviewer: Graeme Strachan