Perfect Pitch
John Godber
Hull Truck Theatre Company
The Lowry, Salford Quays
(2007)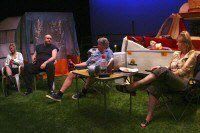 Hull Truck brings another comedy written and directed by its artistic director John Godber to Salford, this time on the subject of caravan holidays - a form of holidaying that Godber became keen on twelve years ago because of his fear of flying.
Retired headmaster Ron (he has retired early due to his 'nerves') and his wife have bought a posh new caravan, which they park in a perfect pitch next to the cliff edge at a site in Scarborough for their first ever caravan holiday. Just as they start to relax, a couple of seasoned caravanners appear on the next pitch in a battered old caravan. They are first introduced to the couple by the sound of female moans in time with the rocking of the caravan. The rest of the play plays on the clash between the two different classes living side by side.
The play was commissioned for its original run in 1998 by Alan Ayckbourn at the Stephen Joseph Theatre; while this could easily form the subject matter of one of Ayckbourn's own plays, Godber shows that he is not the master craftsman that Ayckbourn has always been. The inventive and lively style of Godber's Bouncers or Up 'N' Under here has been replaced by a kind of TV-sitcom naturalism. Like a lot of TV sitcoms, the script will often jump from gag to gag without really building to anything. The comedy is actually often very funny, but the whole thing is just too polite and safe to build into anything like a farce, or even just a compelling plot. The structure is also very uneven; the opening section of very short scenes joined by blackouts with music became a little irritating after a while until it settled down into longer scenes.
There are some good performances from the cast of four. James Hornsby plays the key role of Ron, a part he created in the original production in 1998. He holds it together reasonably well for most of the time, but when the character really starts to lose it, he seems to be holding back from really expressing this. Julie Higginson plays his wife Yvonne, initially snobbish but later with hints of a dark side that has been repressed, very well. Over in the other caravan, Adrian Hood is superb as Grant, completely inhabiting this thuggish, slobbish character without taking it over the top, which makes the character funny and also a bit sinister. He has a great first entrance that brought one of the biggest laughs of the night without him having to speak a word. Kate Baines as Steph goes for the laughs with her character, and she gets them with this familiar character type.
Pip Leckenby has created a great looking set of a cutaway caravan in its clifftop pitch, and there is an impressively quick appearance of the second caravan in blackout.
Whilst there are lots of very funny and entertaining moments and some interesting ideas behind the plot, the play does seem cobbled together and stretched to provide its two-hour running time. As an examination of a clash of opposing classes, The Beverley Hillbillies went much further and seemed much more daring, whereas Perfect Pitch seems to be written through a polite, middle-class smokescreen that doesn't want to see anyone get hurt or too upset.
I heard a lady say to a man in the interval that this is the type of play that 'you don't need to think about', which is the excuse people make to themselves for watching rubbish television that somehow gives them a feeling of comfort or familiarity and which they forget almost as soon as it finishes. The man didn't return for the second act.
J. D. Atkinson reviewed this production at the Theatre Royal, York
Reviewer: David Chadderton