Perfect Pitch
John Godber
Hull Truck
Theatre Royal, York
(2007)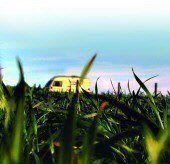 Caravan holidays: you either love 'em or hate 'em. When it comes to spending a week or two in a big tin can, getting back to nature without sacrificing mod cons such as gas and electricity, there seems to be no middle ground. John Godber's 1998 play Perfect Pitch is a peculiarly English blend of caravanning and the class divide, commissioned by Alan Ayckbourn for Scarborough's Stephen Joseph Theatre and resurrected in this Hull Truck touring production directed by the author.
Perfect Pitch is the tale of two couples, middle-class Ron (James Hornsby) and Yvonne (Julie Higginson) and working-class Grant (Adrian Hood) and Steph (Kate Baines). When Ron's frazzled nerves oblige him to leave teaching at the age of 45 he is persuaded by wife Yvonne, a recovering alcoholic, to invest in a caravan and take a relaxing holiday in Scarborough. It sounds idyllic - daily rides out to places of interest, jogging on the beach and an opportunity for Oxford graduate Yvonne to learn her role in an amateur production of The Mikado.
Unfortunately the peace and quiet doesn't last long. No sooner has Ron succeeded in parking his expensive home-from-home than his privacy is invaded by a caravan so decrepit it's in danger of being shaken to bits by the noisy sexual shenanigans taking place within. The newcomers turn out to be Grant, a hulking Neanderthal of limited cultural horizons, and his much younger partner Steph, who talks the strait-laced Yvonne into accompanying her to a male strip show. When the girls return to the campsite completely plastered the stage is set for a confrontation
As with all Godber plays there is no shortage of good one-liners and lots of physical comedy (Ron's struggle to erect a plastic awning will strike a chord with many hamfisted caravanners). Two of the funniest scenes are non-verbal, namely the revelation that the sex god next door is in fact a scruffy middle-aged man with a beer belly, and Yvonne's drunken cabaret act with a dead rabbit. But despite good performances all round Perfect Pitch never rises far above the level of TV sitcom, and despite Pip Leckenby's clever set - which features a cut-away caravan - I frequently found myself wondering what the play would look like as an hour-long comedy on the small screen.
At the Theatre Royal until 24th March, then touring to Newcastle Under Lyme, Southend-on-Sea, Eastbourne, Halifax and Harrogate
David Chadderton reviewed this productionat the Lowry, Salford
Reviewer: J. D. Atkinson