The Perfect Wife Roadshow
Written and devised by Adam Brown, Clare Plested, Amanda Wilsher and Paul Herbert
The Civic and Lincolnshire One Venues in association with Perfect Pitch
Corn Exchange, Newbury
(2010)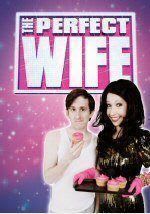 I must admit I've been a fan of Plested and Brown ever since they tentively started their comic duo career with Carole Smiley Trashed My Room that was such a hit at the Edinburgh Fringe in 2000. The Newbury based company have built up an enviable reputation of producing innovative, sparkling comedy shows touring both nationally and internationally.
It is difficult to categorise them since they have developed a unique genre that celebrates the zany nature of British humour with irresistible elements of clown, physical comedy and verbal wit. There are echoes of Morecambe and Wise as Plested and Brown's repartee magically effervesces and embraces the audience with style and panache that makes you laugh out loud and for long. This is the first time that they have devised a musical and it moves them up to a new league.
Their latest production The Perfect Wife Roadshow, co-commissioned by the Newbury Corn Exchange and the Lincolnshire One Venues, is a sure-fire hit.
This spoof musical has all of the West End razzmatazz with high production standards: swanky choreography (Lee Crowley), atmospheric lighting designed by Nick Flintoff and a strikingly inventive set (James Lewis).
Paul Herbert has created a dynamic musical score ably supported by the on stage band of Phil Jones (Guitar), Matt Garbott (Bass) and Mat Whittington (Drums), together with a classy, sassy group of girl singers, Aloe Vera (Jodie Jacobs), Frank (Jodie Beth Myer) and Myrrh (Sophie Behn from Perfect Pitch). They play the 'converted' wives and really belt out the numbers from Gospel ("Some people find the Church: we found our husbands") to ballads, and they are just superb.
The plot is definitely not 'politically correct". In fact some of it is a little risqué but all in good taste. Yet it successfully draws in the audience. Five years ago Dr Lizzie Barry (Clare Plested) was a miserable, nagging exhausted wife who has now become a relationships guru determined to save the audience from divorce with her wife-training programme. Her secret for a happy and successful marriage is that, "women need rules and boundaries: it's time for men to resume their rightful position as head of the household", much to the delight and astonishment of her downtrodden bed salesman husband, Dave (Adam Brown).
She wants the women in the audience to stop trying to make their husbands perfect but instead they should become the perfect wife. To achieve her campaign she has a series of bullet points such as putting your fist in your mouth to stop the nagging, using the Naughty Step and forgiving even though Dave misses their anniversary despite her extravagant planning. Things are definitely changing in this explosive relationship.
Then of course there is Sex and, according to Lizzie, women should 'surrender' in the bedroom. After all, "sex to husbands is what conversation is to a wife," she informs us.
Other helpful pointers deal with the Seven Year Itch, Equality as well as Time Out. After all, women can't do all the household chores because "they have a womb": cue for an other uproarious witty song. Family Finances also came in for treatment as "a man only has the right to undress his wife if he has bought her the clothes," says Dave. All hilarious stuff.
Together Plested and Brown sparkle and fizz, with their witty tongue in cheek dialogue. They are a perfect comedy team playing off each other with brio and are an absolute delight to watch. They work the audience in true pantomime fashion and produced an ending that was a true tour de theatre.
This was a wonderful show, full of laughs, skilfully directed by Amanda Wilsher. The full house audience gave the whole cast a richly deserved standing ovation.
The show will tour in the autumn. Not to be missed. Bravo!
Reviewer: Robin Strapp