Period of Adjustment
Tennessee Williams
Habima Theatre, Tel Aviv
(2006)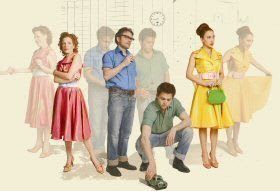 This is a witty, touching and exquisitely performed Israeli premier of Tennessee Williams'1952 play Period of Adjustment directed by Dedi Baron.
The translation of the play into Hebrew by Shlomi Moskovitz and Yariv Gottlieb is modern, clear and convincing without losing any of Williams' subtext.
The scene is set in a sitting-room with a large decorated Christmas tree adorned with toys and other gifts. Also in view is a double bedroom while a wide window facing backstage opens onto a bright, white, wintry day. This seems the perfect setting for a happy family home.
It is Christmas Eve. Newlyweds George (Ohad Knoler) and Isabel (brilliantly and deliciously performed by Klara Huri) turn up at short notice in a hearse (so we are told by a distraught Isabel) to be warmly welcomed by Ralph, George's Korean War Air Force buddy.
Having dumped the suitcases and his spouse, George bizarrely drives off causing Isabel's injured female pride to unravel events that led to their union and the loveless unconsummated wedding night in a dingy motel. Ralph (superbly acted by Rami Heuberger) attempts to converse with the hysterical young woman. She is vexed and humiliated to be deserted by her husband less than a day after their wedding. The very fresh memory of the unhappy wedding night throws her into Ralph's sympathetic arms.
Although somewhat bewildered by the highly strung agitated and nervous Isabel, Ralph empathises and tries to calm her down. He himself has been abandoned by his wife Dorothea after six years of marriage. He married for money. She abandoned him for insulting her father (telling her daddy what he really thought of him) and resigning from his father-in-law's dairy company. Dorothea left, taking their three-year-old son with her.
Heuberger presents Ralph as a man with integrity. Although he laments selling himself for money, he has learnt to respect and even like his wife. However, he never accepted his in-laws, though he was prepared to tolerate them - until he reached breaking point when he could contain his aversion of his father-in-law no more.
A mutual attraction develops between Ralph and Isabel before George eventually returns with a bottle of champagne to share with Ralph (as Isabel does not drink) to celebrate their reunion. George seems to suffer from a form of post traumatic syndrome which manifests itself in a random involuntary shake. His condition led to a long periods in hospitals where no physical cause could be found by the physicians, who transferred him from the military to civilian hospital where Isabel nursed him. It's not just George who has the shakes. Ralph's house was built over a cavern, and is therefore subsiding. It is subject to regular tremors which drive serious cracks up the walls. The symbolic element is only too obvious. In this production the cracks can be seen along the upper part of the walls, noticeable but not glaringly so. Ralph has to draw attention to them.
George spins fantasies about returning to west Texas and raising longhorn cattle. Ralph tries to talk some sense into him. Tension builds up with a degree of suspicion on George's part. He senses the special rapport between Ralph and Isabel. The sudden appearance of Dorothea's father (Arie Moskuna) and mother (Orna Rotberg) who enter the house demonstratively and patronisingly to retrieve everything they gave the couple, brings Ralph, George and Isabel closer together and turn a humiliation into light relief and also leaves Ralph triumphant in the face of his arrogant-in-laws.
Dorothea (Dorit Lev Ari) appears for the first time immediately after her parents triumphantly leave the matrimonial home with their loot.
An element of irony and mischief seal the relationship. Dorothea, an unattractive female, is the product of social climbing materialist parents. She is painfully aware that but for her father's wealth she would have remained a spinster. Nonetheless she decides to remain with Ralph only on noticing the fur coat by the Christmas tree. The immediate attachment to the coat is irresistible and amusing. All's well that ends well. The two couples needed each other to appreciate that they can after all plaster over their marital cracks; all they needed is a period of adjustment.
Reviewer: Rivka Jacobson