Persée
Jean-Baptiste Lully, Libretto by Philippe Quinault
Opera Atelier
Released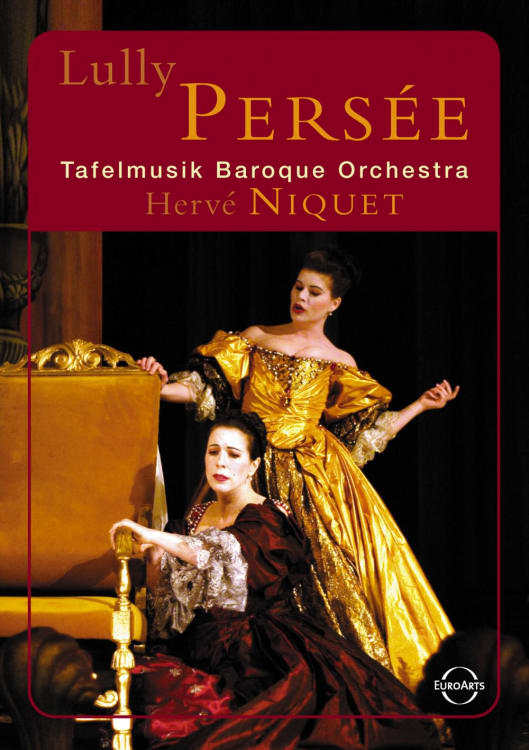 Opera Atelier rediscovers and revitalizes period operas and ballets particularly from the Baroque period. Marshall Pynkoski's much-lauded stage production of Jean-Baptiste Lully's Persée was filmed and directed by Marc Stone for television at Toronto's Elgin Theatre in 2004 and released on DVD.
Lully was master of the French Baroque music style. Hervé Niquet conducts the Tafelmusik Baroque Orchestra who play on period instruments. The opera is lovely, orally and visually.
The production recreates the sort of ornate spectacle Louis XIV and his court would have witnessed at its hugely successful première in 1682: the music, singing, dancing, sword fighting, tableaux and special effects, all smoothly integrated.
Gerard Gauci's designs and the gorgeous costumes by Dora Rust-D'Eye are inspired by the drawings for that 1682 performance. The opera is beautiful to look at. The dancers are stylish and symmetrical. The Baroque choreography is by Jeannette Zingg.
Lully and his librettist Philippe Quinault took their inspiration from Ovid. Persée (Cyril Auvity), with the assistance of the gods (Juno excepted), has to kill a gorgon, a sea monster and his rival Phinée (Alain Coulombe) in order to marry the woman, Princess Andromède (Marie Lenormand), he loves and get the blessing of Venus.
The singers are stately in their movement and gestures. Monica Whicher has the big emotional role of Mérope whose love for Persée is unrequited and leads her to actions which she regrets.
The comic high spot is Olivier Laquerre playing the gorgon Medusa in drag and beard and recounting how she lost her famed beauty. Hilariously vain and camp, he is joined by two gorgonettes and Mercury (Colin Ainsworth). Lully (who was gay) would have loved the half-naked male dancers.
Opera Atelier's Persée is a joy and can be viewed on Euro Arts's DVD.
Reviewer: Robert Tanitch