Peter James' Looking Good Dead
Shaun McKenna, adapted from Peter James' novel
Joshua Andrews and Peter James
Grand Opera House, York
–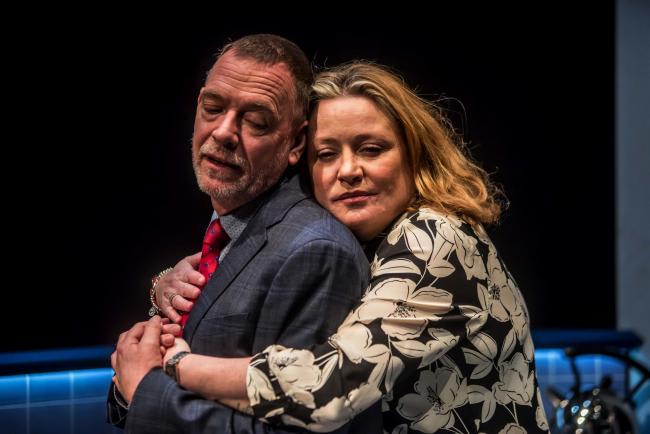 Peter James is one of the UK's most popular crime writers, having sold over 21 million books worldwide. Not only have his novels been adapted for the stage (The Perfect Murder, Not Dead Enough), but his most famous creation—long-suffering policeman Detective Superintendent Roy Grace—was recently played by John Simm in a smash-hit TV drama.
While Roy Grace plays a pivotal role in Looking Good Dead, Shaun McKenna's stage version of the second novel in the series, the spotlight is primarily fixed on an ordinary family who becomes entangled in the shadowy world of crime.
Whilst commuting home on the train one evening, struggling businessman Tom Bryce (Adam Woodyatt) picks up a USB stick left by a fellow passenger. With the help of his layabout son, Max (Mylo McDonald), Tom manages to open the contents of the USB stick and is led to a sickening web site where the brutal slaying of a young woman is screened live for the delectation of online voyeurs.
At first, Tom tries to hide the truth from his alcoholic wife, Kellie (Laurie Brett), but a threatening phone call from one of the killers results in Roy Grace (Harry Long) and his team being called in.
Having gritted my teeth through another stage version of one of Peter James's books, The House on Cold Hill (a scare-free ghost story), my expectations for Looking Good Dead were very low. Unfortunately, the production failed even to live up to those.
Despite being presented as thriller, there was no point at which I felt the slightest bit of tension or suspense. When Kellie was kidnapped at the end of the first half by a masked assailant, I wanted to laugh. At the end of play, where long-held secrets are brought to light and guns are waved around, I did laugh.
It's not clear to me why this story merited a stage version, particularly as the novel of Looking Good Dead was one of the two books recently adapted for the ITV series. Although I have not read any of the Roy Grace series, I was surprised by how little sense of the character we get in the production. By focusing on the Bryces to such an extent, McKenna renders him a purely functional figure.
Michael Holt's set designs are occasionally effective, particularly the raised stage at the back where we see the murder take place. Less successful is the portable police station, which is periodically wheeled on downstage so the three investigating officers can exchange clichéd dialogue.
The actors do a solid job with the second-rate material they're given to work with, particularly Adam Woodyatt and Laurie Brett as a dysfunctional married coupled—something they honed during their years of marital strife in EastEnders.
Given the popularity of Peter James adaptations on stage, there is clearly a market for this kind of show. I also recognise the difficulty of creating high-quality stage thrillers, which explains why the good ones (Rope, Gaslight, Deathtrap) feel like exceptions rather than the norm. Nevertheless, Looking Good Dead remains a singularly unexciting experience.
Reviewer: James Ballands