Peter Pan
Adapted by Paul Hendy from the original by J M Barrie
Evolution Productions
Ashcroft Theatre, Fairfield Halls, Croydon
–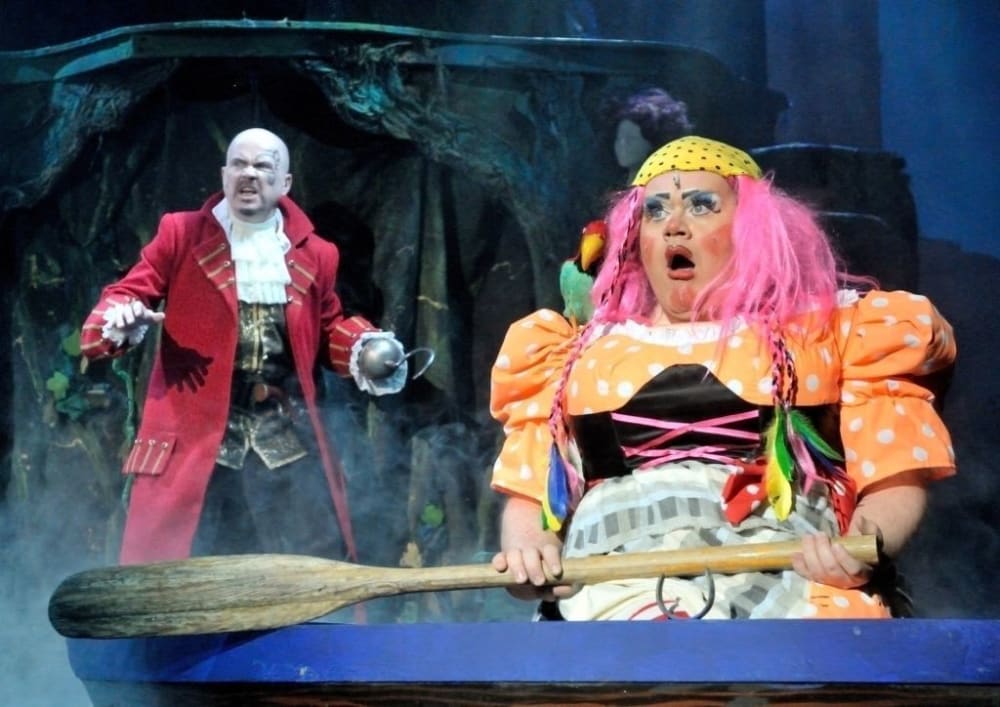 There has been much talk this season about the death of the Dame, but at the Ashcroft Theatre she is well and truly alive as Quinn Patrick returns to Croydon for his third pantomime at the venue.
Over a quarter of all 2013's Peter Pans has a Dame and each and every time she is the lovable Mrs Smee. In Paul Hendy's version of the tale, Mrs Smee constitutes both the Dame and Comic, a merging of roles as has been seen in the trend for Comic Principal Boys. Starting out as Mrs Smeeterton, the Darlings' Nanny, Patrick's queen of misrule soon appears in Neverland aboard the Jolly Roger to assist in comic capers above deck and drive the show's audience participation.
Peter Pan sees Patrick re-united with Kelly Chinery and Nathaniel Morrison, who last appeared at the theatre together in 2011's Aladdin. Starring in myriad roles including Indians, Pirates and Mermaids, Chinery and Morrison's skill for multi-rolling and comedy shines through. As Myrtle and Mia the Mermaids, their rendition of Proud Mary goes down a storm whilst their double act of Chief Squatting Cow and Brian, later Beryl the Indian Brave, injects plenty of comedy into a pantomime full of fun.
These comic characters are a million miles away from Chinery's serious and fine-voiced Mrs Darling, who provides the necessary contrast in the nursery scene to the children's excitement at playing Peter Pan, Nana's naughtiness and Mrs Smeeterton's matronly chaos.
We catch a few glimpses of Mrs Darling throughout the show, which is more than can be said of her husband, who only appears courtesy of a voice-over. In ridding the audience of their opportunity to encounter Mr Darling, the audience has to wait until a little way through the first act to meet alter-ego Captain Hook and experience any villainy, which at present results in more booing warm-up being required.
In his seventh outing as Captain Hook, Steve McFadden's gravelly voice gives the Pirate King plenty of ruffian about him, which is playfully explained by a humorous subplot that sees Peter Pan steal Hook's wig, the key to his Eton educated accent and public schoolboy charm. McFadden makes the switch between sinister and suave superbly comical, thus demonstrating the variety of ways Hook can be played as he channels and later rejects his EastEnders persona.
This year's production makes the most of projection by Accolade Productions with Helga Wood's rotating Neverland set effortlessly conjuring the island's many locations. Rather than a projection or performer, Tinkerbell is brought to life as a floating orb of light courtesy of Enchanting Magic, which is particularly effective in the character's dying scene as she floats to the ground and is cradled by her master.
As Peter Pan, David Ribi's voice is as magical as his flying with act two's "Not While I'm Around" a moving reminder of Pan's caring nature and sorrow at the thought of losing his newly-made friends. Elizabeth Carter's Wendy captures the character's motherly charm with ease and James Mitchell's Stinky Pete adds welcome character-driven speciality acts to proceedings in terms of a fire eating Indian and a Pirate with a penchant for escapology.
A few lighting issues provide Pan with multiple shadows in the nursery as he searches for his and "Jai Ho" seems slightly misplaced for the Indians of Neverland. Nevertheless, this Peter Pan is packed with plenty of laughter and peppered with fresh touches galore to keep the boy who never grew up soaring into the twenty-first century.
Reviewer: Simon Sladen