Peter Pan
Adapted from the original by J M Barrie by Alan McHugh and Michael Harrison with additional material by Matt Slack
Qdos Entertainment
Birmingham Hippodrome
–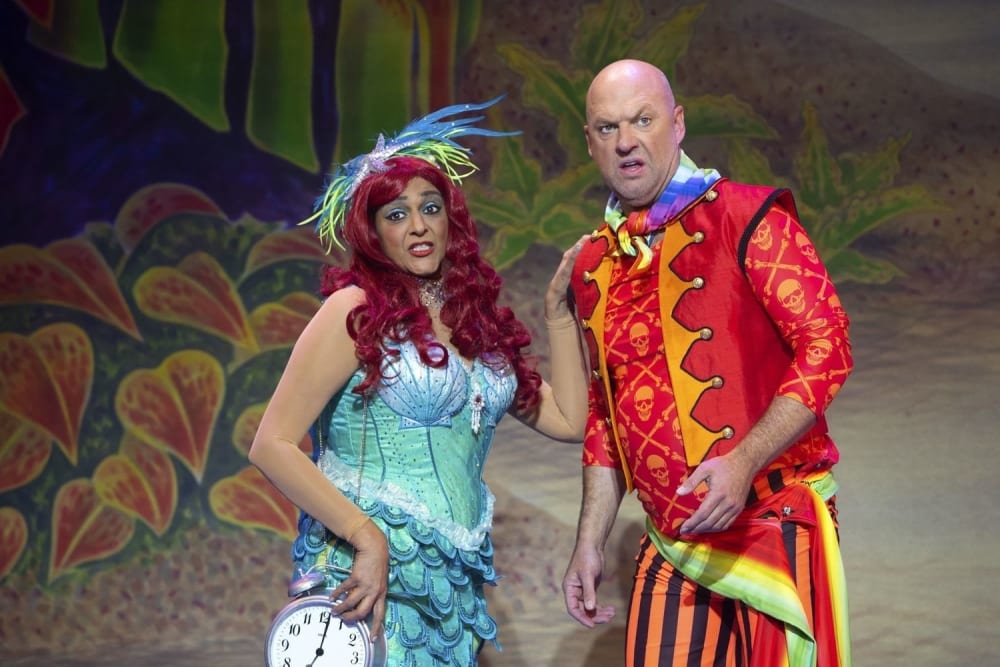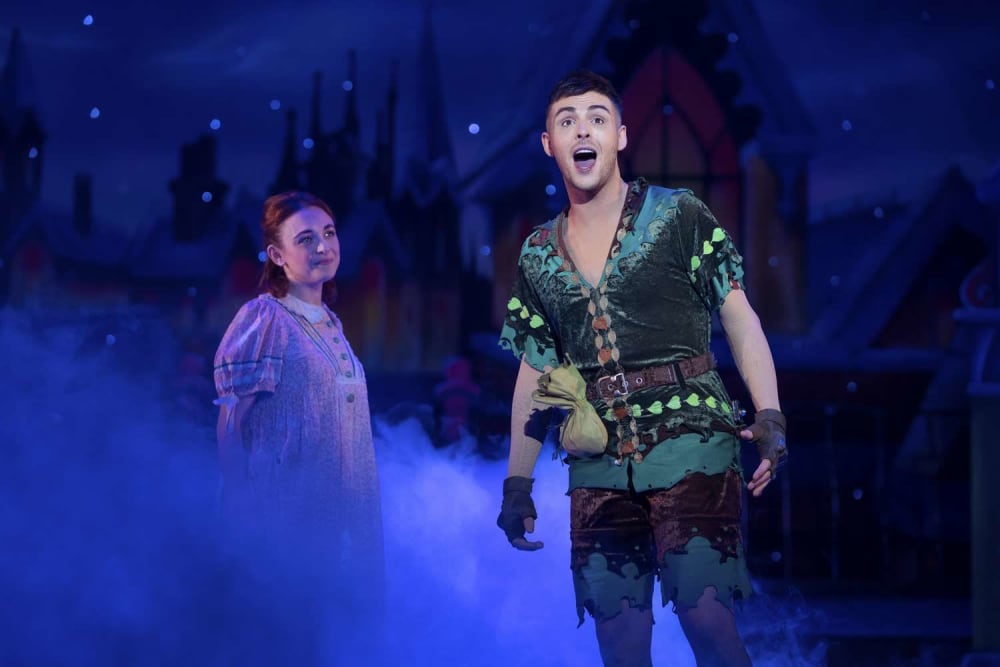 Peter Pan first took to the stage in 1904. Now 114 years on, the J M Barrie tale returns to Birmingham for the third time in pantomime form as a swashbuckling new adventure thanks to Qdos Entertainment.
Episodic in nature, many of the well-known and much-loved scenes are dispensed with in the Hippodrome's production to give way to speciality acts from the Timbuktu Tumblers' athletic leaps as the Neverlanders to Sascha Williams and Stephanie Nock's drunken pirates balancing on a towering column of rocking cylinders. Contemporary pantomime's roots lay in Variety and here we see how the genre has become a vessel to capture and preserve disappearing forms.
Vibrant, energetic and full of vitality, Michael Harrison's production never stops to draw breath. A Mary Poppins-esque opening number above the rooftops of Birmingham sets the pace and soon the Darling children are whisked off to Neverland with the whole audience held in anticipation at the awfully big adventure about to commence.
Back for his sixth year, Matt Slack drives the production as Mr Smee. One of the country's best Comics, Slack provides a pantomime masterclass as the narrative sees Smee transported to Neverland and appointed an undercover pirate to help in Hook's downfall.
With such a talent at their disposable, producers Qdos Entertainment ensure Smee remains in the spotlight as he embarks on many an entertaining feat from rotating 360 degrees on a pink moped to completing a punrun based on countries to recount a dating experience.
Devoid of a Dame, it is down to Slack to provide much of the show's comedy, and he excels in every scene. Whether paired with Jimmy Osmond's majestic Captain Hook as a wannabe backing singer or being the messenger in a tongue-twister sequence about sushi shop worker Shirley and her shoe shining sister Sharon, he has the audience in the palm of his hand.
Making her live pantomime debut, Meera Syal's Magical Mermaid injects plenty of Black Country warmth into proceedings with Nana Kumar even making an appearance as she seeks to aide Smee in distracting Hook.
Jaymi Hensley's vocals are put to good use with his youthful Pan also proving a good sport playing off Slack and participating in "If I Were Not In Neverland", even if it is slightly at odds with the show's narrative as Hook and Pan sing side by side in harmony as arch-nemeses.
In a title full of strong women, it is a shame Imogen Brooke's Tiger Lily, Cassie Compton's Wendy and Kellie Gnauck's Tinkerbell do little more than deliver key lines of plot, whilst Syal's Magical Mermaid isn't even afforded a name. Most productions kill off the Neverbird, but here Mrs Darling also suffers that fate in the centenary year of women's suffage.
A living newspaper of the year, pantomime reminds us of the past twelve months' politics, trends and tastes and, along with Trump, Harry Redknapp, 'Baby Shark' and The Greatest Showman, even Theresa May's dancing gets captured for future historians to uncover.
From tutu-wearing crocodiles performing Chicago inspired numbers to Nana the Dog doing the floss, the Birmingham Hippodrome never ceases to capture the absurd world of pantomime where anything is possible.
Reviewer: Simon Sladen