Peter Pan
J M Barrie
Regent's Park Open Air Theatre
–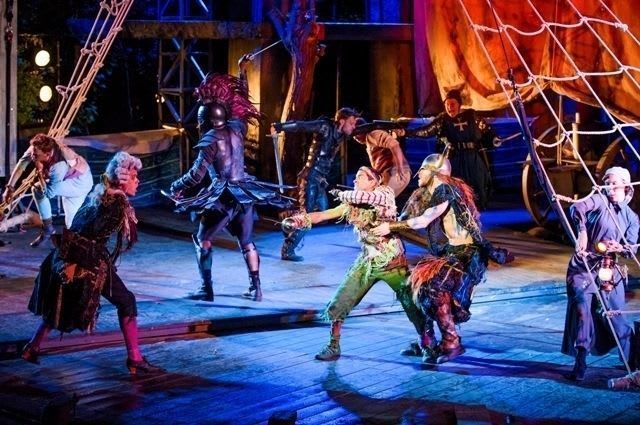 The Boy Who Would Not Grow Up was James Barrie. Peter Pan is a mixture of romantic fantasy, gooey sentiment, Edwardian spectacle, patriotism and religion.
There was a time when you could see the play every year at Christmas and Captain Hook and Peter Pan would be played by famous actors.
Captain Hook has been played by Gerald du Maurier, Henry Ainley, Ralph Richardson, Charles Laughton, Alistair Sim, Stanley Holloway, Donald Wolfit, Boris Karloff, Donald Sinden, Dave Allen and Ron Moody.
Barrie had intended Peter Pan to be acted by a boy, but the Edwardian licensing laws did not allow children to perform past 9:00PM, so Peter in 1904 was created by Nina Boucicault and continued to be played by actresses right up to 1982.
Peter Pan has been played by Fay Compton, Gladys Cooper, Jean Forbes Robertson, Anna Neagle, Ann Todd, Glynis Johns, Margaret Lockwood, Joan Greenwood and Dorothy Tutin.
The welcome sex change came when Trevor Nunn and John Caird directed Peter Pan for The Royal Shakespeare Company in 1982. Miles Anderson, Daniel Evans and Mark Rylance became the first males to play Peter in Britain.
Barrie took his inspiration for Peter from the five Llewelyn Davies brothers: George, Jack, Peter, Michael and Nico, whom he had befriended and whose guardian he became when their parents died.
Peter was an amalgam of all five boys and they played a major part in the creation of the story of Peter and Wendy.
Barrie also took his inspiration from the death of his elder brother who had died on the eve of his 14th birthday in a skating accident. Wendy was inspired by a little girl who died at the age of 6.
There is a lot of death. Michael drowned in 1921 whilst still up at university. (Many thought it was a suicide pact with his lover.) Peter committed suicide in 1960. He stepped in front of an underground train.
The most famous line in Peter Pan is the often quoted: "To die will be an awfully big adventure."
George was killed by a sniper during World War I in March 1915 and Timothy Sheader and Liam Steel take his death at Ypres as their starting point for their highly original take on Barrie''s play.
The action is set in a field hospital in France during the War. The actors are costumed as soldiers and nurses in uniform. The designer is Jon Bausor.
There has been a great deal of tinkering with the text. Mr Darling and Nana, the dog, have been cut. Wendy (Kae Alexander) is a nurse. Smee (Beverly Rudd) is a woman. Tinker Bell is a puppet (a Pixar lamp). Captain Hook (David Birrell) is made up to look like Kaiser Wilhelm.
Peter Pan wouldn''t grow up because he wanted to be a boy forever and have fun. There were many lads during 1914-1918 who never grew up because they were killed.
When the pirates force the children to walk the plank, you think of the soldiers in the front line forced out of the trenches to face enemy fire.
The Lost Boys in Barrie''s play return from Neverland and come back to England. The Lost Boys in real life remained in Flanders and never returned. 10 million soldiers died during the Great War.
Barrie said of Peter Pan: "you must make what you will. Perhaps he was a little boy who died young. Perhaps he was a boy who was never born at all—a boy whom some people longed for, but who never came."
Hiran Abeysekera, a very likeable Peter, flies and bungees and soars above the stage with complete confidence and sheer enjoyment. The actors, who play the children, have a lot of fun pretending to be children; and there is a jolly battle with the pirates, who prove to be a very motley crew.
Reviewer: Robert Tanitch