Peter Pan
Adapted by Eric Potts from the original by J M Barrie
First Family Entertainment
Richmond Theatre
–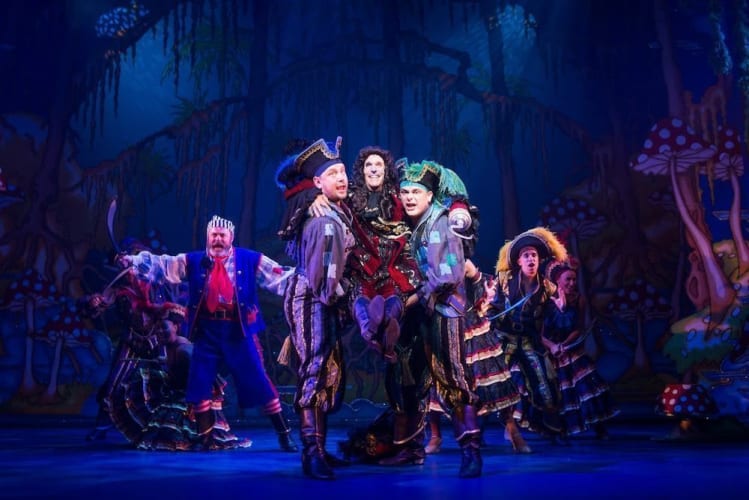 Peter Pan has now been a staple of pantomime for over twenty years. Just like its fellow titles Cinderella and Aladdin, the tale has come a long way since Barrie's 1904 original and will continue to evolve as producers put their mark on it and make it relevant for contemporary audiences.
Although a large percentage of the audience now shout "No!" when asked whether they believe in fairies, Pan's question carries on the tradition of audience participation which now runs throughout the entire production. "Ahoy there Mr Smee!" greets the lovable pirate on every entrance, Hook is booed as the convention dictates and the ticking crocodile allows for plenty of "It's behind you!"
Whilst traditionalists may refute Peter Pan's pantomime status, a whole host of pantomime conventions are now present in the title and celebrate pantomime's ability to adopt and adapt.
Eric Potts's re-telling of the tale cuts Mr and Mrs Darlings's presence from the nursery scene and, in a break from the usual First Family Entertainment version, Tinker Bell's projection has been replaced by Kiruna Stamell, a four foot fairy who flutters from the flies complete with teacup and crossword in hand, blowing raspberries at the ugliest girl she's ever seen (Wendy) and speaking as if the Queen of the Fairies. An inspired piece of casting, Stamell certainly puts the tinker in to Tinker Bell and demonstrates the joy an audience gets when their horizon of expectations are well and truly shattered.
Jeremy Legat's Pan and Victoria Tyrrell's Wendy capture the tension between the two characters perfectly as they battle with the desires and fears of growing up, whilst Hook's happy band of initiates showcase the opportunities Peter Pan affords members of the ensemble for strong character acting as they relish their roles as a misfit troupe of pirates.
Roger the Cabin Boy, a character created for Louie Spence when debuting in the role at the New Wimbledon Theatre in 2010, has been revived for this production in a narrative which sees much humour injected into the show. Having seen an advert in the local paper and being accustomed to a bit of cruising in his time, Roger applies for the job of Hook's cabin boy and is soon made a member of the crew.
Challenging Hook's hatred of singing and dancing, Roger high kicks and shimmies his way through the show, eventually winning over the Captain's heart, who rewards him with his very own cruise cabaret in preparation for Neverland's Got Talent three quarters of the way through act two.
As Roger, Philip Scutt delivers the exuberant campery many associate with pantomime and provides the production with a different type of humour to the warm, teddy bear of an approach by Dermot Canavan's bearded Mr Smee. This additional subplot not only heightens Hook's menace due to his constant conflict with Roger exposing his hatred of happiness, but it also helps pad out proceedings in what is a rather short show.
Act Two sees four front cloth scenes come thick and fast and although Henry Winkler's Captain Hook successfully commands the drill routine, the 'say what I say' routine, the 'sticks' gag and Potts's 'When pirates attack' patter, such a chain of set pieces does stall proceedings and leaves the production somewhat unbalanced.
A magnificent Hook, Winkler struts across the stage oozing villainous charm like a true pantomime pro. Having played the role many times before, it is clear from his performance that he adores appearing as the evil Pirate King and the audience lap up the show's few references to Hook's 'Happy Days'.
The production packs in plenty of flying for Pan and Wendy, as well as Tinker Bell and two magical mermaids, but it is a shame that poor Michael and John's feet never leave the ground and the two young actors have to quickly exit the stage as Pan and Wendy soar through the skies to Neverland.
A little more slapstick chaos and a stronger peppering of puns would allow this Peter Pan to really take flight in a production that embraces pantomime traditions whilst retaining the much loved aspects of Barrie's plot.
Reviewer: Simon Sladen