Peter Pan
Andrew Ryan, from the original by J M Barrie
Martin Dodd for UK Productions
Sunderland Empire
–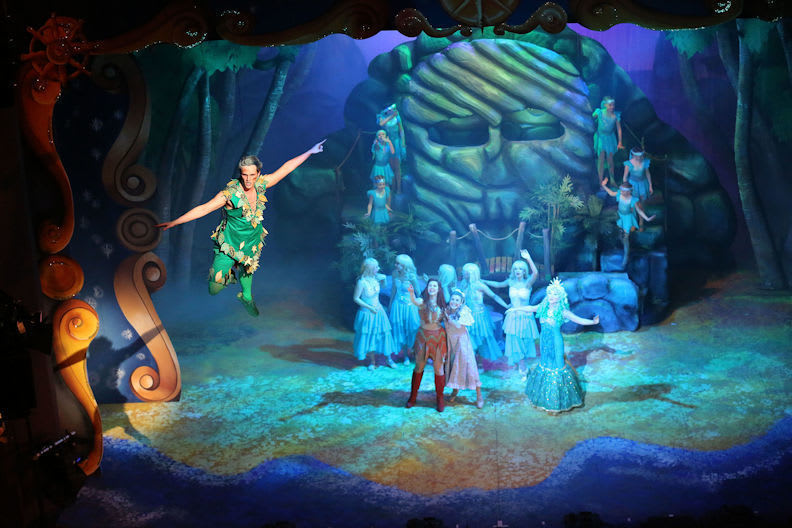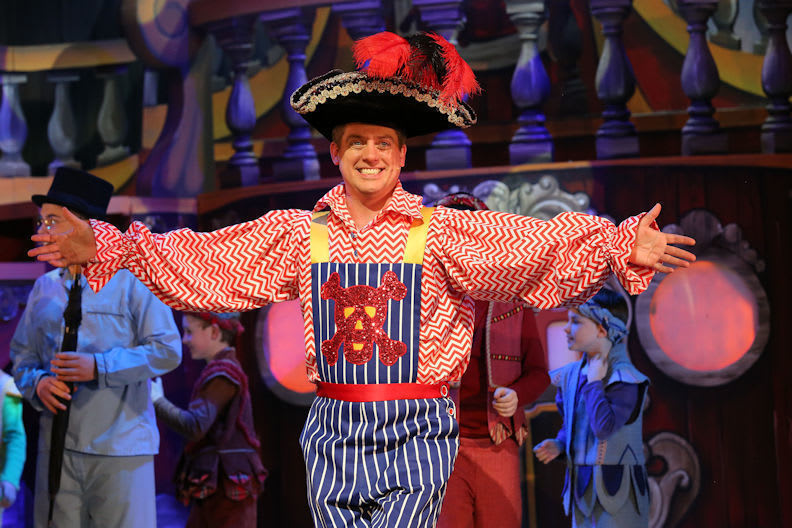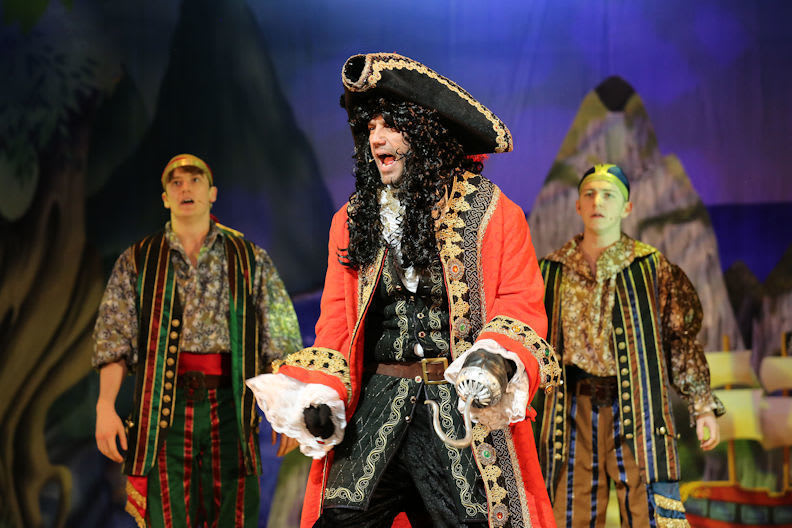 Andrew Ryan's—at least, I assume it's Andrew Ryan's but there's no writer's credit in the programme—version of Peter Pan takes the pantofication (I do like inventing words!) about as far as it can go. There's lots of singing and dancing, lots (and lots) of bad jokes and even worse puns, and a Comic, Smee, who, although he's a Pirate and therefore a Baddie, is actually a good Baddie. But then, all the Pirates—with the exception, obviously, of Captain Hook who is a villain to the core—are actually quite nice.
There's no Dame, a sad lack in a panto but a character who would be totally out of place in Peter Pan. There have been attempts to insert a Dame into the show but I've never seen one where 'her' presence feels comfortable.
Many of the traditional scenes are missing too; no slosh scene obviously and no take-off, although there is a gesture in that direction when Peter keeps flying back and forth upstage and the children get to shout, "He's behind you!"
But there's flying (impressive: right across the audience from the stage to the upper circle on a couple of occasions), a roller-skating fairy, magic, Red Indians, Mermaids, a very realistic crocodile, great sets—and the puns, from (the, I suppose, inevitable) "Is it Smee you're looking for?" to a veritable shoal of fish jokes from our Welsh Mermaid (Melanie Walters, who also plays Mrs Darling, speaking impeccable RP of course).
Peter (Josh Andrews) and Wendy (Ruth Betteridge) are, of course, the principal characters but the one to whom the kids really relate is Smee (Richard McCourt, the Dick of Dick and Dom) (Should I rephrase that, I wonder?). The kids love him, not only because of his constant stream of funnies but because, right from the start, he has them shouting slightly naughty words like "Bogies!" They loved that!
We have a nicely prickly (and not a little sulky) Tinker Bell in Lauren Ferreira and an impressive Scottish Tiger Lily in Inez Mackenzie, whose kidnapping by the Pirates leads Smee to quip, "It's an Indian takeaway!" She also plays the Darlings' servant Liza.
Jamie Lomas makes Hook really very nasty indeed and, in the first London scene, he's a bit of a stuffed shirt as Mr Darling but of course he softens at the end when his children are returned unharmed, along with a whole load of Lost Boys—he took that very well! Not, of course, that Hook softens at the end. Oh no, he goes to his death the total villain he was in life.
It would be nice to be able to name the youngsters who play John and Michael but which of the two who share the parts were playing in the press performance we don't know, although the photo shows they are from the Kathleen Davis Stage School which has been providing Babes for the Empire panto since the mid-seventies. They were good though!
I've always thought that Wendy is a bit bossy, making all the boys, including Peter, take their medicine before going to bed (reminds me of, as a child, having to swallow a spoonful of cod liver oil every night. Yuck!) but she's nice as well, very sensible, definitely the right person to be mother to the Lost Boys. And Betteridge is totally Wendy—a lovely performance.
There's a touch of the steel in Andrews's portrayal of Peter, a strong determination that he will not grow up but will continue to have a different adventure every day. As he flies over our heads, determination in every line of his face and body, finger pointing forward and to the future, he really is a hero.
As ever—it hardly needs saying, for there are so many excellent young singers and dancers out there—the five girls of the Ensemble are worked hard, constantly changing costumes, moving from routine to routine, and doing it all with a smoothness which shows great skill, energy and commitment, proving yet again that we have strength in depth in musical theatre in this country. And a special word for the three Pirate Crew 'Nitwits' (William Beckerleg, Morgan Chambers and Alex Middlebrook) whose acrobatic display on trampoline and vaulting horse towards the end was jaw-dropping.
What I particularly liked was that all of the elements of Barrie's story were there and that the atmosphere of the early twentieth century milieu of the original has been retained and that the panto is just another way of telling the story.
I confess I was not looking forward to this. Peter Pan the panto has always been a bit of a disappointment to me, more panto than Pan really, but this got the balance just right. In the end I really enjoyed it!
Reviewer: Peter Lathan