Peter Pan
Andrew Ryan
Ambassador Theatre Group
Sunderland Empire
–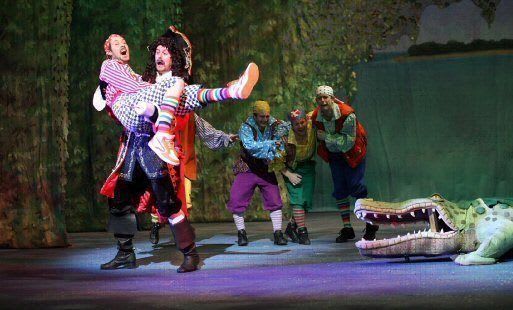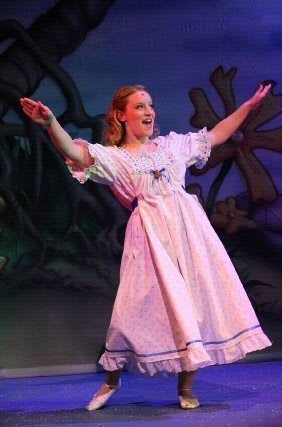 Sunderland Empire Theatre has a success story on its hands. A high-flying, unmissable Christmas treat that's got everything, including children and animals. The loveable baby-sitting dog Nana is played with expert canine acting skills by Lauren Sproates, and there is also a rather effective great big slithery crocodile.
It feels wrong to describe J M Barrie's enchanting children's story as a pantomime although having 'pan' at the beginning of the word almost makes it forgiveable. Nevertheless, it's been a long time since Sunderland produced a Christmas Show but the Ambassador Theatre Group have pushed out the pirate boat and made something very memorable.
The sets are magnificent; everything looks brand-spanking new and director Sarah Redmond has obviously worked very hard to keep this production tight and contemporary without losing sight of the original storyline.
Emmerdale's Tom Lister makes Captain Hook into the brilliant baddy that all the children love to hate and the teenagers love to love; he must be the sexiest Capt'n Hook I've ever seen. He also makes a darling Mr. Darling too.
CBeebies presenter Katy Ashworth is the perfect Peter Pan: she oozes a wonderful child-like confidence and is so brave to fly across the tops of the audience heads all the way up to the upper circle. All the children in the production are from three local organisations, Kathleen Davis Stage School, Muriel Harrison School of Dance and Drama and Shameem Karim School of Performing Arts, and they are all, dare I say it, 'pantastic'.
Writer Andrew Ryan, has shadowed J M Barries storyline mingling some very appropriate modern songs like 'Flying Without Wings' and 'I Believe I Can Fly'.
Of course every Christmas show this year has gone gangnam style; who would have thought that a South Korean musician called PSY could have this much effect on a British Christmas?
Choreographer Vanessa Leagh-Hicks, has found some charming moves and her interpretation of the Slumdog Millionaire dance Jai Ho was one of the show's highlights.
A quick mention too for roller-skating Elisha Covell as the feisty Tinker Bell and Courtney-May Briggs' delicate Tiger Lilly, and I can't miss out Sunderland lass, Sophina Afzal, who is part of the Townsfolk and an Indian on her home territory, excellent.
Best line is delivered by Hook as he is about to try and kill Peter Pan: " You are so dead Pan!"
Brilliant show, full of fun and a great welcome back to Christmas for the Sunderland Empire Theatre who have certainly lived up to their title of West End of the North with this production.
Reviewer: Helen Brown