Peter Pan
Adapted by Alan McHugh and Jonathan Kiley from the JM Barrie original
Qdos Entertainment
Theatre Royal Plymouth
–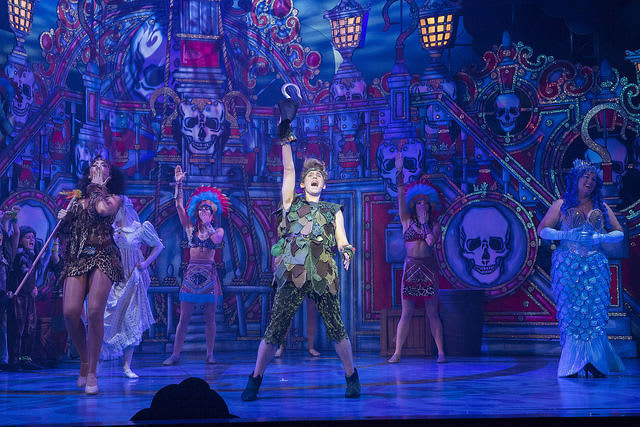 It is more the Hook and Smee show than Peter Pan as the panto season arrives in a flurry of pyrotechnics, sumptuous scenery, pixie dust and toilet humour.
Steve McFadden as the villain of the piece struts about in pirate boots, brandishing his hook and eyeliner while buckling his swash in the battle against the Lost Boys and their flighty leader. A nod to the EastEnders provenance pokes gentle fun with "duf dufs" and heated rollers of note while a sprightly Taylor Swift moment and gruff "I Did It My Way" swansong net a cheer after a raft of boos and hisses.
Andy Ford as Smee is the lynchpin. Walking the silly walk and talking the Devon vernacular talk, the homegrown comic does daft inexhaustibly well. Engaging the audience and great with the kids, Ford bounces through pirate shanties, Indian pow wows and Lost Boys' hideouts, gluing the heavily-edited story together, adjusting his moobs and flirting with the front row with just a tinge of adult humour.
Mimi the Magical Mermaid (Rachel Spry) is a new one on me—magical presumably as she seems to have little problem shifting her 36-24-£1.50 a kilo self on land—and a voice to be reckoned with. The reworded "Cell Block Tango" from Chicago as a trio with a strident Tiger Lily (Joelle Dyson) and a melodious Tinkerbell on rollerskates (Isobel Hathaway) is a definite highlight.
Ventriloquist Dawson Chance celebrates 45 years in pantomime, four in Plymouth, as Starkey with sidekicks Weary Willy and Piddling Pete providing catchphrases, and a platform for plenty of bodily function innuendo and water spraying—stalls be warned.
Joe Sleight is rather quiet as high-flying, deft swordsman Peter, Mikaela Newton's Wendy is sweetly flirtatious rather than mumsy while the Theatre Royal Babes (including Noah Crump/Frank Stewart as John and Jake Doncaster/James Ferrier as Michael) are sweet and on point. Add an exuberant Ensemble as hornswaggling pirates and drum-beating Indians, and a mahoosive clockodile to tick the panto boxes.
Barbara Evans's direction and choreography is pacey for the most part although there are some less slick moments which should be ironed out in the run, Joe Hood keeps the Theatre Royal Orchestra in step for a rich soundscape while the unsung set designer creates a bright, vibrant Neverland complete with sparkle and plenty of firepower.
Not such an awfully big adventure but an audience-pleaser.
Reviewer: Karen Bussell