Peter Pan
Adapted by Simon Aylin from J M Barrie
Daryl Black with HQ Theatres
Wyvern Theatre, Swindon
–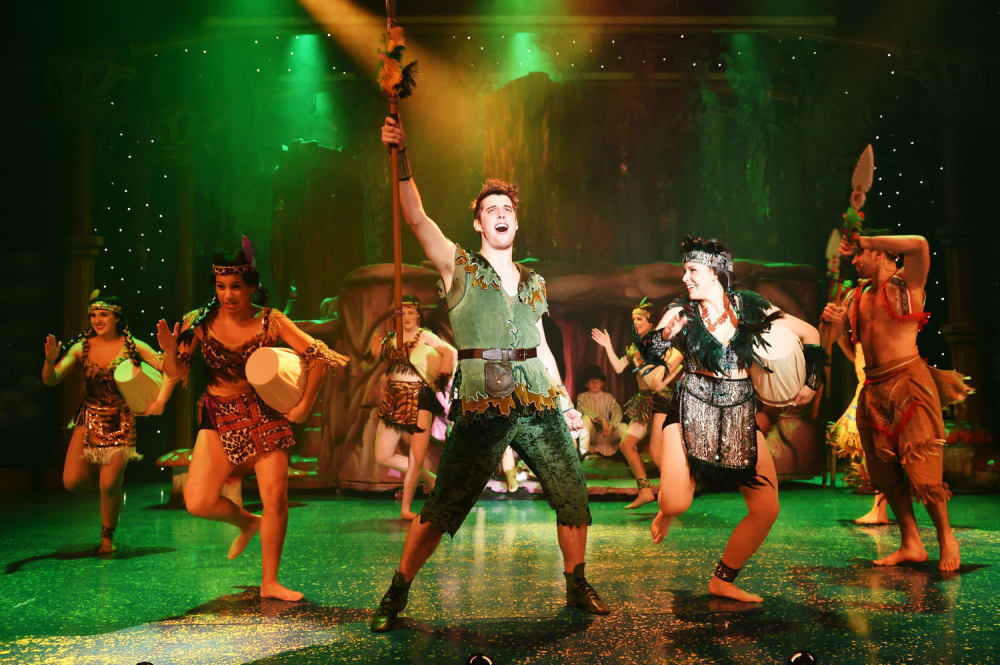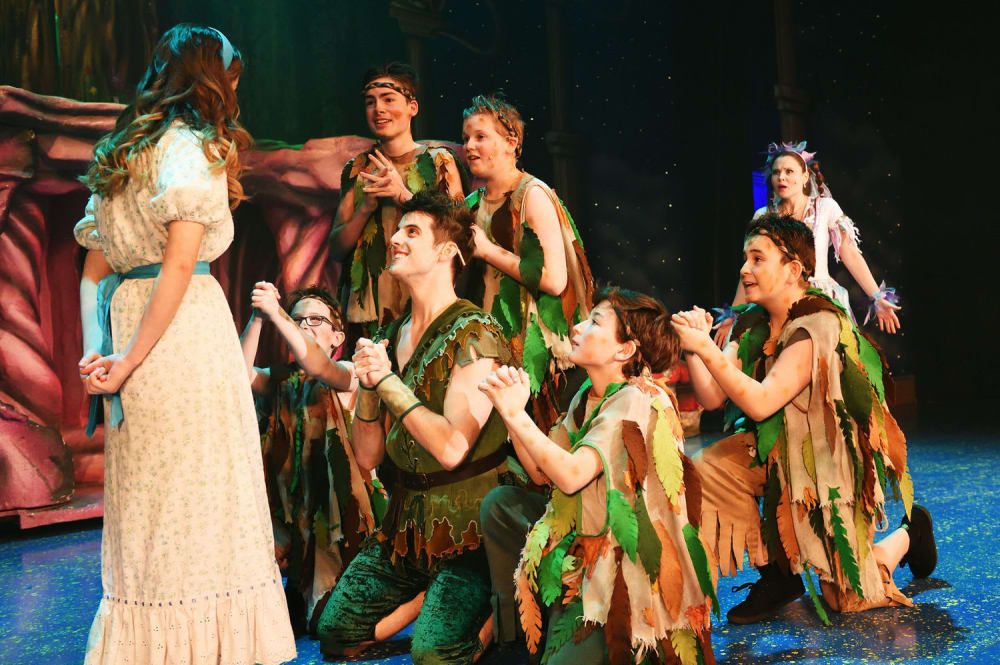 It's always a treat to visit Swindon's Wyvern Theatre during the panto season. The audiences are always enthusiastic as they join in the fun in abundance.
This year's show is the high-flying adventure of Peter Pan adapted by Simon Aylin and it's brimful of yuletide cheer as the story of the boy who refuses to grow up and lives in the magical mythical Neverland with the lost boys, fairies, Indians and of course pirates.
The production standards are high with spectacular colourful sets, glorious costumes and lighting effects and a wonderful enthusiastic cast with a great band under the musical direction of Phil James.
Adam Woodyatt (a.k.a. Ian Beale from Eastenders) returns to the Wyvern as the dastardly pirate Captain Hook who relishes the boos from the audience whenever he makes an appearance.
The flying is impressive and Ryan Anderson cuts a dash as the petulant daring Peter in a spirited performance and has a powerful singing voice. He persuades Wendy (Lucy Pollard) and her brothers, John played by Reese Carter and Michael (Ben McLean) on the press night, to join him in Neverland.
Although Tinker Bell, the fairy with attitude—a feisty performance from Abigail Mathews)—is jealous of Wendy.
However, it is Antony Lawrence as Smee that wins the audience's hearts in a highly engaging and energetic performance that soon had his new shipmates onboard with his crazy antics. His catchphrase had the audience laughing out loud and joining in with delight.
Danielle Black plays the servant Eliza and by contrast the fearless Tiger Lily who is captured by Hook's pirate crew in order to lure Peter into a trap.
The rendition of the Twelve Days of Christmas is hilarious and exhausting and the "five custard pies" adds that essential piece of slapstick; and look out for a soaking on the 12th day!
The audience loved the knockabout number "If I didn't work for Captain Cook this is what I'd be" and screamed at the traditional ghost scene.
There was excellent support from the lost boys and the juvenile dancers with lively accomplished choreography by Damian Czaenecki.
Captain Hook certainly got his comeuppance when the whole audience threw sponge rocks to defeat him, all great fun, and of course we all shouted, "we believe in fairies," to save poor Tinkerbell when she drank the poisoned medicine meant for Peter and saved her life.
Skilfully directed by Luke Sheppard, this fast-paced festive production is an absolute joy and highly recommended.
Reviewer: Robin Strapp