Peter Pan
Andrew Ryan
UK Productions and The Anvil
The Anvil, Basingstoke
(2011)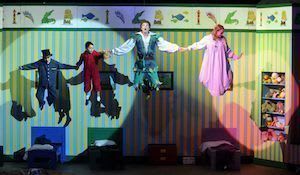 Peter Pan at The Anvil in Basingstoke is a lavish, spectacular pantomime that has the audience 'hooked' from the very start. It is a vibrant, swashbuckling evening's entertainment for all the family and the enthusiastic Basingstoke audience absolutely loved it.
This classic story of the boy who is determined not to grow up and lives with his gang of Lost Boys in Never Never Land is given a modern twist in director Pete Hillier's vivacious, high-energy production.
There is oodles of audience participation, stunning sets and costumes, great special effects with pyrotechnics and some dashing sword fights in this high quality production.
Amanda Salmon is terrific as the roller-skating chav Tinkerbell who is always causing mischief, and Pete Hillier keeps the momentum moving as the cheerful Smee who quickly establishes a warm rapport with the audience.
The Darling family lives in a large house in London with the children looked after by their Nana, a loveable dog (Freddie Mason). The young children, confidently played by Reuben Overton as John and Benjamin Macken as Michael, are preparing for bed.
Zara Warren is the delightful Wendy who has trapped Peter's shadow in the window and eventually travels to Never Never Land to be the Lost Boys' mother.
There is some inspirational casting of Ben-Ryan Davies as Peter, whom many will know from his appearance in Waterloo Road. He perfectly captures the playfulness, cheekiness and the 'spirit of adventure' of the character in an enthusiastic convincing performance.
The flying sequences are truly magical as the children soar over the London skyline and Peter glides above the audience to the back of the theatre.
Gary Turner is very impressive as the evil Captain Hook, who deliciously deserves all the boos from the audience as he seeks revenge on poor Peter for losing his hand to the crocodile.
He is ably assisted by his motley pirate crew (Andy Rothwell, Paul Cox and Freddie Mason) who also give an outstanding, knockabout, acrobatic display.
Shireen Jordan is convincing as Tiger Lilly with her band of Indian squaws but she is captured by Hook and tied up in Mermaids Lagoon waiting for the tide to rise and drown her.
Peter rescues her with the help of the Welsh Mermaid, a lovely cameo performance by Julia J Nagle who also plays Mrs Darling.
There is some sterling choreography (Sarah Louise Day) with good support from The Basingstoke Academy of Dancing and Kelly Hopkins Theatre Arts, and The Lost Boys, too many to mention by name, were having great fun in their roles.
With some lively, well-chosen music under the direction of Martyn Cooper, this spirited Peter Pan is not to be missed. Highly recommended.
Peter Pan runs until the 2nd January
Reviewer: Robin Strapp