Peter Pan
Based on J M Barrie's original play, music by George Stiles, lyrics by Anthony Drewe, book by Willis Hall
Birmingham Rep
(2007)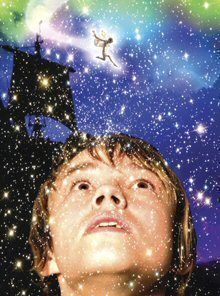 Casting Peter Pan must be a nightmare. Do you try to go for realism by casting young actors in the main roles or do you choose experienced actors who can give a more mature performance but may come over as too old?
Rachel Kavanaugh, artistic director of Birmingham Rep, has opted for the latter. Her version of Peter Pan, described as a "musical adventure", calls for vocal and dancing talents, which ruled out certain B-list or C-list celebrities.
There are no stars in Peter Pan, just a hard-working cast who give their all and try to entertain without resorting to old gags, slapstick or banality.
But with older performers in some of the main roles, the show appears to have lost the childlike innocence that you relate to the likes of Peter Pan, Wendy and John.
For instance, Peter Caulfield does an excellent job as Peter Pan; he's nimble, moves like a sprite and sings perfectly adequately. But throughout he looked to me like a punk rocker who's aged a bit rather than a boy who hasn't grown up.
You don't have to stretch your imagination too much to accept Gina Beck (Wendy) as mother to the lost boys - not a girl pretending to be an adult.
And Jeremy Legat when he's wearing glasses gives the impression of a geeky bank manager instead of an immature boy.
The night I saw Peter Pan was a strange one, not only because there had to be an eight-minute break in the first half because Captain Hook couldn't make his appearance through a faulty trap door.
The only participation from the audience was when Peter Pan asked everyone to clap loudly if they believed in fairies so that Tinkerbell might come back to life.
Yet when Captain Hook came out for his curtain call he was enthusiastically booed by an audience which didn't manage even a tiny hiss all the time he was on stage.
Incidentally, I felt David Birrell as Hook wasn't evil enough to be the leader of a band of murderous pirates.
The first two scenes of Peter Pan are leaden and strung out - I don't know if it's because when I saw the show it was the cast's second performance of the day . It was only when they arrived in Neverland that the action picked up.
Gay Soper is an endearing storyteller and tries to make the story as spellbinding as possible and Greg Barnett is the most impressive of the pirates.
The seven-piece band led by Stephen Ridley do a really capable job, although George Stiles' music isn't particularly memorable; some of the songs are structured well enough to be included in a West End musical yet you won't find yourself humming any of them on your way home.
Peter Pan bears all the hallmarks of a typical Birmingham Rep presentation: high production values, excellent sets and great attention to detail. But it needs more - a bit more fairy dust, a little more magic.
"Peter Pan" runs until January 19th
Reviewer: Steve Orme