Peter Pan
Jonathan Kiley
Qdos Entertainment
The Hawth, Crawley
(2011)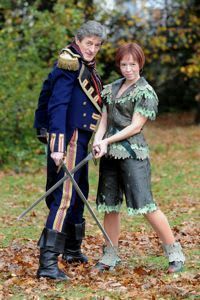 JM Barrie's classic tale of pirates, crocodile and the boy who wouldn't grow up is given a modern twist in this production with the style of dancing and the many references to current television programmes, but we still have all the magic, plenty of flying and lots of noise. If I needed one word to describe the evening it would be LOUD, but this was due to the enthusiastic audience who shouted, cheered, booed and stamped at the least encouragement - and sometimes without. Invited by Rachel Spry's Mermaid to 'clap their fins and stamp their flippers' to bring fairy Tinkerbell back to life they all clapped and stamped so hard that it seemed the theatre would explode. Yes, it had the desired effect and Isobel Hathaway's impudent Tinkerbell was back on her roller skates and full of life again.
Setting the scene firmly in London, the show begins with a rousing chorus of "London Town" song and dance complete with a Pearly King and Queen, before switching to the children's nursery in the Darling household where faithful dog Nana keeps watch over her charges. I was particularly impressed with scene changes and the way the bedroom neatly re-arranges itself and glides silently away to be replaced by the rooftops of London and Neverland. All changes, from forest to aboard the Jolly Roger, Neverland Lagoon and back to the Nursery, are completed equally unobtrusively, silently and magically.
Peter is played by a superb and delightful Kerris Peeling with cheeky, mischievous charm and some very proficient and graceful flying - a particularly exciting highlight had her flying over the auditorium, teasing the pirates who were frantically chasing through the audience trying to catch her (him) before she disappeared somewhere in the heights of the theatre. Another highlight, and a stoke of genius, distributed small 'rocks' throughout the audience especially to throw at the dastardly Captain Hook when he turns his cannon on them. The children absolutely loved this, but it also woke up the dads who were up on their feet throwing and hurling like crazy. They were going to show that Hook what he was up against.
Everyone enjoys the role of the 'baddie' and Nigel Havers takes to it with an Elvis impression and an impressive rendition of the song 'Evil', before getting down to the serious business of being nasty and trying to keep control of his incompetent band of pirates, one of whom is the children's favourite Jon Clegg as the comical and inept Smee. My eight year old guests, Ryan and Joe, remembered him well, were really looking forward to seeing him again and he lived up to all their expectations. After the show they made a bee-line for him to collect his autograph - again!
One performer who caught my eye right at the beginning of the show was Lucy St Louis as one of the Londoners and she re-appeared again as Indian Tiger Lily - great personality, stage presence, beautiful singer and fabulous dancer. A talent to watch. There are some great dance numbers from Pan's People (Peter Pan - not the originals) performed with lightning speed and precision to the choreography of Barbara Evans, and Pan's Juveniles were from the Roshe Performing Arts School with two from the school (at this performance Daniel and Thomas) taking the roles of the Darling children Michael and John. Sarah Middleton, who graduated only this year, is an endearing big sister Wendy.
So - here we are back in the Darling nursery and the end of the show. Captain Hook has been eaten by the crocodile and Slater is back as Mr Darling. I don't know what became of the mermaid, but Rachel Spry is back to being Mrs Darling and all ends happily. I think I can safely say a great time was had by all.
Until Sunday, 31st December
Reviewer: Sheila Connor