Peter Pan
J M Barrie, adapted by Eric Potts
First Family Entertainment
Opera House, Manchester
(2007)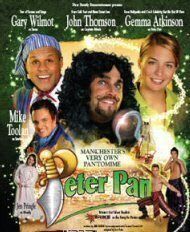 According to JM Barrie the second star to the right and straight on till morning is the way to reach Neverland. However you can take a short cut until early January via the Opera House in Manchester. This year's First Family Entertainment Pantomime is Peter Pan with a host of telly stars of varying vintages. Adapted by the talented Eric Potts this version offers all the usual suspects, including the lost boys and a tribe of Red Indians.
Gary Wilmot as pirate Smee demonstrated a skilled rapport with the audience whom he gets on his side pretty much from the word "go". As Captain Hook John Thompson had just the right level of nastiness and silliness alternately evoking booing and laughter. With his handlebar moustache and ponytailed hair and villainous swagger he showed he had travelled a very long way from the Fast Show and Cold Feet.
As Peter Pan Gemma Atkinson was suitably gung ho and yet also quite boyish. She worked very well with Jen Pringle's feisty Wendy. The airborne sequences were terrific and this reviewer almost did believe that a boy could fly. The stage effect of animation projected onto a front gauze gave a credible illusion that the characters were actually flying. This was one of the highlights of the production.
Another was a patter song where each of five of the pirates lead by Smee / Wilmot had to perform a particular action whilst singing a beautifully timed comic song. This earned a well deserved ovation.
There were judicious amounts of audience participation. One routine involved the audience having to shout a phrase every time Wilmot / Smee said the word OK. His physical comedy abilities reminded this reviewer of a young Norman Wisdom. Whilst there wasn't the "look behind you" moment there were some "oh no it isn'ts". There was also plenty of booing when John Thompson as the evil Captain Hook was holding court over his pirates or being horrid to Peter or Wendy.
Even the semi-obligatory children from the audience onto the stage routine navigated the right side of saccharin and was in better taste than last year's effort. Most cringeworthy for this reviewer was when he was encouraged to link arms with the gentleman next to him and sway from side to side whilst singing the very silly pirate song.
The sword fighting in the vibrant and decisive battle scene was very well staged by Renny Krupinski. In it Strike - the two martial arts performers from ITV's Britain's Got Talent - really came into their own. They also figured heavily in the song and dance routine I'm an Indian Too earlier in the piece. Despite often being in the background of the action all of the assorted Pirates, Indians and Lost Boys worked really hard. They contributed to the ensemble feel of the production. However this reviewer was particularly struck by the energy and comedy that newcomer James Jenkins brought to his roles as Noodles and the Medicine Man.
There were many local references which were noted and appreciated. And although most of the humour was aimed at the largely child audience one or two comments were intended to provoke adult laughter. Generally the jokes were as old as Noah's ark and ranged from "knock knock who's there" "A little old lady" "A little old lady who " "I didn't know you could yodel", through to one which involved one character stopping Smee just in time from saying a pretty naughty word for the male appendage. The Opera House's full auditorium lapped it all up.
The songs were pleasant and included some pop covers and 50s rock and roll standards as well as one or two penned by the multitalented Gary Wilmot himself. All were well sung by those on stage and played to perfection by the musicians in the pit under the baton of Musical Director Steve Power.
The settings were low key but effective in a cartoon style. A rash of big red and white toadstools in Peter's underground retreat. Numerous skulls and Crossbones in Captain Hook's Jolly Roger and giant flowers edged the set and the front cloth. The pyrotechnics were also well handled and a genuine surprise.
Director Bob Tomson managed to obtain just the right balance between telling the story and playing to the audience and as it were stepping out of the story just to entertain for a while. Wilmot and Thompson worked very well together and Mike Toolan was an excellent pirate Starkey and further stooge. He had a more comic contribution than his rendition last year of Prince Charming allowed.
Tinkerbell was depicted as a projected lighting effect but Nuria Benet on film still managed to make us care so much that we would scream "I believe in fairies" in order to save her at a crucial plot moment.
Karen West as Mrs Darling brought an effective dose of reality in the midst of the fairytale. She also had one of the best singing voices in the production. The happy ending of the reunion of the darling children with their mother and father was tinged with sadness by our awareness that Peter Pan is still in Neverland. But on the other hand it means he is safely there ready to delight and thrill us once again.
This production is slick and really engaged with its target audience of children aged 5 to 80. It does everything you could want a panto to do and runs at the Opera House until January 4th.
Reviewer: Andrew Edwards