Peter and the Wolf
Original music and text by Sergei Prokoviev; new text by Abi Brown (after an original story by Jan Geenan); new music by Philip Feeney
Choreography by Didy Veldman
Produced by In the Wings Hackney Empire and touring
(2008)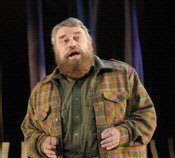 Prokoviev's 1936 original, written to please his son and to give the Central Children's Theatre of the USSR a way of introducing children to classical music and the instruments of the orchestra, lasts only half an hour. To turn it into a show for stand-alone performance, In the Wings have added a prequel that extends the show to about 90 minutes including interval.
The prequel introduces almost all Prokoviev's characters except grandpa and presents a group of children who individually wander off into the dangerous wood where the wolf lives. There is an adult figure - I never discovered who he was - who warns them about danger and appears to offer them a safe haven where he hangs a sort of necklace charm that he suspends in the air.
It is really not much as story and it seems a bit naïve that Peter is supposed to be able to protect himself because he is carrying a piece of rope that he can use as a lasso. The narrator, Brian Blessed, carries a much shorter piece of rope that he swings about a bit, so perhaps it has some symbolic significance I don't know about.
Fortunately it looks gorgeous. Paul Gallis's set has a forest with lots of trees, a sky that goes through day, sunset and moonlight with bright red autumn leaves swirling off the ground and there are imaginative and colourful costumes by Yan Tax and Marie Lauwers. There is lively choreography for the children and some nicely characterised dance work for the animals, though, apart from a confrontation between Christopher Marney's very slinky wolf and the unknown adult, I doubt that you would know what was going on if Blessed was not there to tell you.
Brian Blessed introduces the instruments and leitmotifs as well as narrating the tale. He is a warm, endearing personality but it is a pity that he is asked to milk applause by making admiring comments after each phrase played at the opening. He has a big rich voice which at Hackney is grotesquely over-miked. I saw the first performance in the venue, which may have been the problem. Levels were a little better in the second act and things may be fine for the rest of the run, but I found it both painful on the ears and difficult to follow. When you are asking a storyteller to make intimate contact with the audience it seems counter-productive to put him behind a quite large orchestra and frequently upstage. If you can't put the band to the rear once the instruments have been demonstrated you might find some way of bringing the narrator forward. The Philharmonia Soloists play splendidly under the baton of Tim Murray but they and Blessed should not be in competition!
The second half, when we loose some trees and gain a new big one, a pond and a fence, is pretty well as Prokoviev wrote it, with cat chasing bird, wolf eating duck and Peter catching wolf, though the wolf is now led off to a wild place rather than to a zoo. Didy Veldman matches the music with some very entertaining dances, though again she is not strong on getting over narrative and her excellent dancers are often doing something at odds with what is being described. She does some clever things to tie up the wolf in Peter's rope (also used when he catches the duck in the first act), and introduces a pair of sprightly hunters. Why does she have them firing imaginary pistols as though they are playing at New York cops instead of using hunting guns? But they are certainly fun, as is the delightful duck with his shock of yellow hair (danced, I think, by Maurizio Montis, though since the programme doesn't say who dances what I could be wrong).
Caroline Lynn is a nicely fluttery bird and Alessandro Cito the cat who stalks her - and ends up in grandpa's arms. Grandpa is Daniel Rosseel - good to see an older dancer being used - and Peter is danced with great spirit by Paul James Rooney. The vitality of these dancers, and those playing the other children carried a very young audience with them. Let's hopes that has sparked an appetite to come back for more music and more dance.
Opened in Amsterdam Sept 2007. At Hackney Empire until 20th April (not 14th or 17th) Performances at 1pm and 5 pm
Reviewer: Howard Loxton