Petit Mal
Race Horse Company and Crying Out Loud
Queen Elizabeth Hall, Southbank Centre
(2010)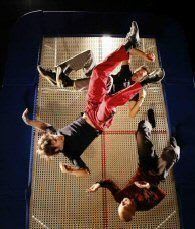 Circus is surely in the midst of a renaissance. From the Roundhouse CircusFest to Sadler's Wells presentation of productions such as Circus Cirkör and The Seven Fingers it seems like everyone wants to bring the circus from street to stage.
Finland's Race Horse Company now add Petit Mal to the plethora of acrobatic tumbling on offer. It is an anarchic cocktail of breathtaking physical performance with avant garde theatrical experiments, resulting in a mixed bag of a production.
The large stage of Queen Elizabeth Hall is taken over by a complex set which resembles a junkyard. A rusty metal cage hangs from a long chain, tyres litter the space and a huge trampoline rests on its side propped up with jagged planks of wood.
In the centre, Petri Tuominen, Rauli Kosonen and Kalle Lehto aggressively beat each other out of their individually impressive acrobatics. As one balances on a pole, another bashes into him and they both collapse to the floor. It's an amusing game of nonchalance and masculine power; and an attempt to push against the normal rules of circus in which the audience applaud the physical feats at which they marvel.
The blasé performance style doesn't put a stop to the applause however. Tuominen's extraordinary pole acrobatics deserve their claps, as does Lehto's impressive break dancing. It is Kosonens' stunning trampoline choreography which is the highlight of the performance. Lit beautifully, his body is like a feather as it soars through the air. At one point he flips back and forth on his head so many times it's hard to believe it's happening in front of your eyes.
All of a sudden, the world in which we're immersed completely changes. Lehto dons a faux American sheriff's outfit whilst the others jump into a panto horse costume before transforming into Elvis Presley complete with paunch. Kosonen runs on dressed in gold sequins and grinning at the audience before competing (a quite impressive) striptease whilst bouncing on a giant pink gym ball - if circus doesn't work out for him the gay clubs around the world will pay him very well for this same act.
It seems like Race Horse Company have watched a Forced Entertainment show and tried to mimic their particular brand of theatrical chaos. Whilst it's mildly amusing, it also feels cheap and insincere - an unnecessary diversion from what is a powerful and atmospheric set up. Luckily, the trio revert to their junkyard and unmoved personas towards the end, even creating a beautiful final image of a hot air balloon made from a net of gym balls. It's a quiet, simple and complex picture which will linger in the memory.
Reviewer: Terry O'Donovan