Phaedra(s)
After Sarah Kane, Wajdi Mouawad and J M Coetzee
Odéon–Théâtre de l'Europe and LIFT 2016
Barbican Theatre
–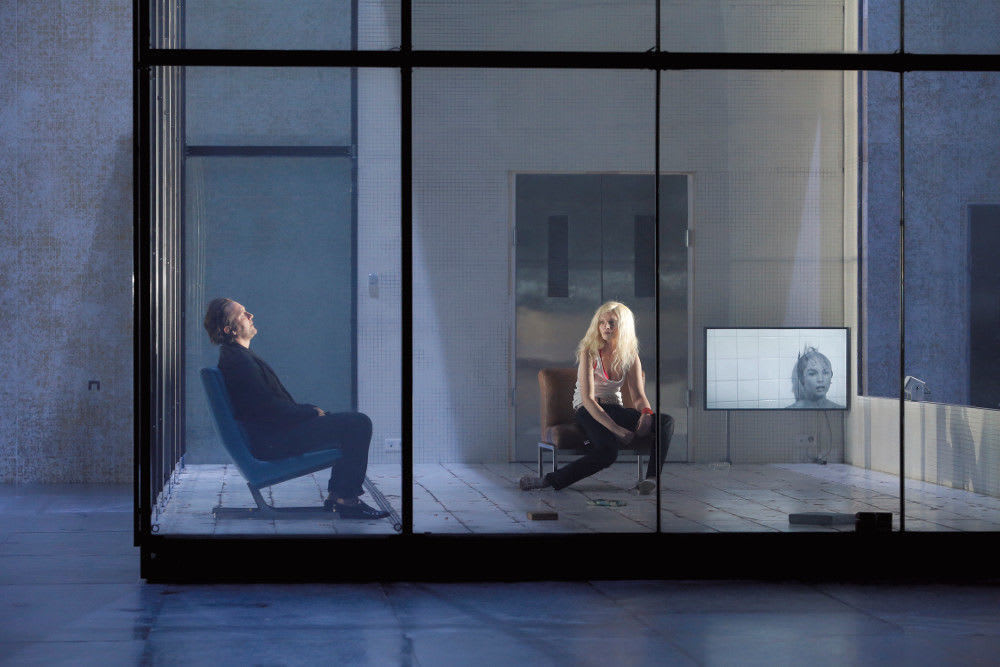 You could dismiss Polish director Krzysztof Warlikowski's retelling(s) of the Phaedra story as four hours (nearly) of pretentious European conceptual theatre if only you could grasp the concept.
The play, which is performed in French, starts off incomprehensibly with a dimly lit rock guitarist accompanying an Arabic singer while a tranny-looking high-heeled dancer in a glittering diamante bikini slowly twitching then becoming increasingly frantic.
Decadence? Yes, but when will it stop? The heart sinks at what may be coming (and that dancer is back three hours later with some wild-haired head swirling) but Malgorzata Szczesniak's minimalist modern looking set has already promised something different.
At first sight, its metal and glass and what look like walls of honeyed marble suggest one of Athens's newest Metro stations but with lighting changes you see it's not marble but tiling, damaged in places, there's a wash basin down left, a shower head back centre. It is elegantly impressive, a surfaced for video projections and a space that concentrates attention on the actors, led by the amazing Isabelle Huppert who, once she appears, is never off-stage for much more than a moment.
Warlikowski gives us not one but three Phaedras. First is his adaptation of a version commissioned from Wajdi Mouawad, then his treatment of Sarah Kane's Phaedra's Love and then an adaptation of J M Coetzee's story Elizabeth Costello that incorporates a brief re-enactment from Racine's Phèdre.
But before Phaedra comes goddess Aphrodite (Isabelle Huppert), describing the creation of life as the rape of the Earth and outlining how she will use Phaedra to destroy Hippolytus, making her so desirous of him that it will bring both their deaths. This Aphrodite then transforms into a visibly menstruating, frustrated Phaedra, attended by the singer who becomes her attendant Oenone.
This is a Phaedra the victim of conquest and cruelty, forced as a child to dance in her family's blood, their sole survivor. She dreams of Hippolytus who appears in the form of a growling black dog, seen first crawling around his own glass-walled room. He points the way to eternity.
In a following dream, Hippolytus (Gael Kamilindi), looking eminently desirable, is lying on her bed beside her, their images huge on the wall behind them as they are brought to simultaneous orgasm.
From this Cocteau-like modernisation of myth, a section is signalled with the projected label REALITY and the play switches to Sarah Kane's version with her scruffy Hippolytus (Andrzej Chyra) in his room, birthday cake candles burning, playing with a radio-controlled toy car when his hand isn't too busy masturbating. Phaedra's daughter Strophe (not his sister) thinks him disgusting, and she should know: she's been to bed with him. What is wrong with him? His doctor says he's just very unpleasant "and incurable."
Hippolytus's glass-box room isn't the squalid mess Kane's Phaedra describes. He still blows his nose on dirty socks, though careful not to use those that he wanks into and having them washed before he wears them, Phaedra (and later his doctor) both give him a blow-job, but the worst horrors of Kane's stage directions are spoken, not enacted. There is a simplicity here that gives clarity to Kane's picture of private, unfeeling depravity in response to a fucked-up family and an even more squalid world out there.
The first Phaedra was blonde, Kane's red-haired. The third version is presented through a writer being interviewed in a very funny send-up of such public displays of pseudo-intellectual discourse. So far, raw pace has been generally measured; one of the pleasures so far has been hearing the resonating cadences of French spoken with elegance (and amplified perfectly). There is a richness of tone that turns harder for Kane's text and now Huppert's Elizabeth Costello is fast-tongued and sharp with it. She overrides Andrzej Chyra's bumbling academic with her views on human/divine miscegenation.
In making her case, Costello is quoting Racine's Phèdre, which she and her interviewer act out. I don't follow how it supports her case, or indeed what her case is, but it does get in another classic version of the Phaedra story.
After nearly four hours, I'm am not sure what this production is intending to tell me but perhaps that doesn't matter for, once the first few minutes are over, its has held my attention, my French supported by easy-to-read surtitles, it has strong actors led by Isabelle Hupport's looks splendid. I found it very watchable theatre.
Reviewer: Howard Loxton