Phantasmagoria
Ciaran Dowd, Matt Roberts & Daniel Barker
Gravel Theatre
Theatre503
(2010)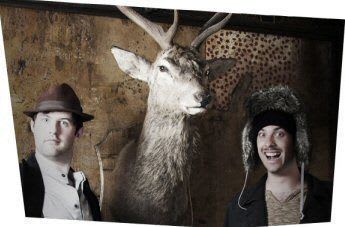 Phantasmagoria: a fantastical sequence of haphazardly associative new short plays as seen in a theatre above the Latchmere pub. Following on from the first instalment in the Summer, Gravel Theatre is back with three new twenty minute theatre pieces.
80 Miles East of Nowhere, the first offering of the evening, starts with the amusing sight of two posh sounding men quarrelling over a stew made of twigs. They are Hickey (James Sheppard) and Crabcalf (Ciaran Dowd) and we later find out they have been hiding in the woods for some uncertain amount of time (they've lost count), but probably over five years. With them is Plank (Simon Grujich) who is as thick as a short one and is cared for by Hickey who has become a surrogate mother to the group.
The three men are dressed in soiled and tattered khaki green clothes and are in hiding following the outbreak of some sort of invasion or war. Whether this is ongoing is unknown as the men are too scared to leave their hideout. While some of the dialogue is amusing, overall the actors are too caricatured and fail to bring a truthfulness to their performances. The only exception is Dowd as the whinging and bedridden Crabcalf. Incidentally Dowd also wrote the script.
Mark Roberts' Blackpool is the strongest of the three pieces. Essentially a simple family drama, it is carried by the hilariously frank Eloise (Helena Lymbery), the housebound mum who alternates between puffing on a cigarette and her asthma inhaler. In the play we also meet Eloise's adult daughter Nicola (Sarah Ovens) and her boyfriend Paul (Anthony Wilson), who is on the verge of proposing to Nicola despite a less than enthusiastic response from Eloise. In Blackpool Roberts' has created a loveable trio of characters who could easily form the basis of a full length script.
Perhaps the most phantasmagoric piece of the night is Daniel Barker's surreal Soap. Alan (Sam Fletcher) is writing a pitch for Paul (Sam Wilkin), a suit whose jargon has gotten to the point of being incomprehensible. Baker's script critiques the culture of aggressive masculinity that permeates much of the corporate world. Obsessed by sex, Paul objectifies his female employees before taking off his clothes and insisting that Alan practices a self defence move that sees the two men writhing on the floor in their underwear. Enter the client David (Benjamin Jason Reeves), who seems unfazed by the bizarre scene around him. It's a quirky little play that you can't help but enjoy, even if you're not sure always sure what's going on.
Reviewer: Iain James Finlayson