Philip Pullman's Grimm Tales
Philip Pullman adapted by Philip Wilson
Grimm Productions Ltd in association with pd3 and Shoreditch Town Hall
Shoreditch Town Hall
–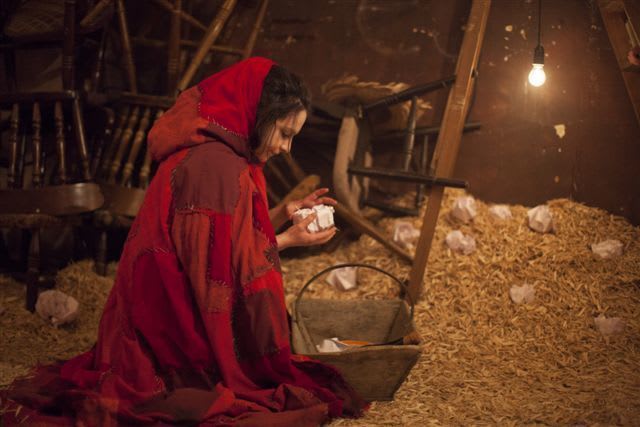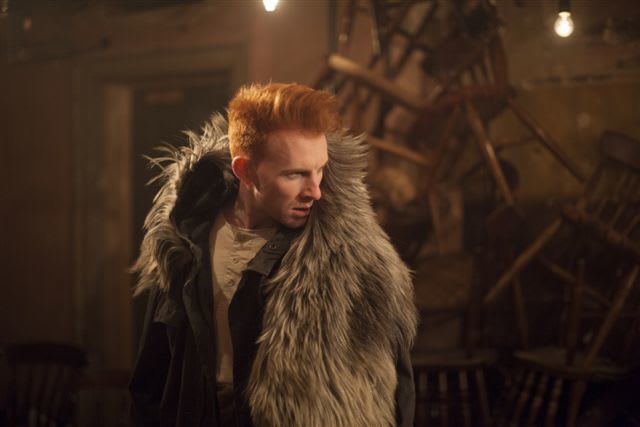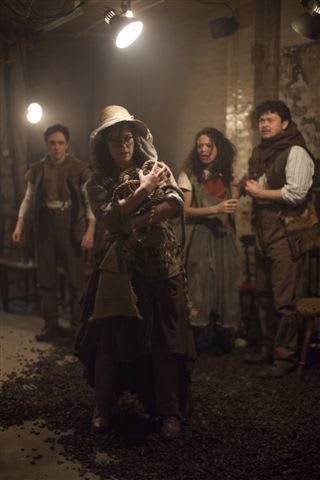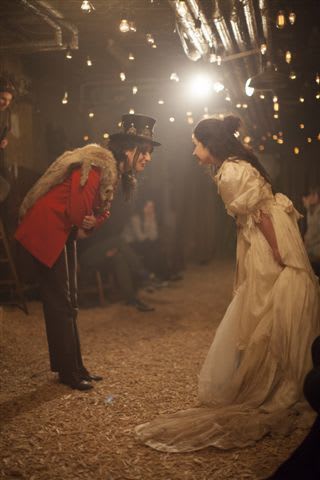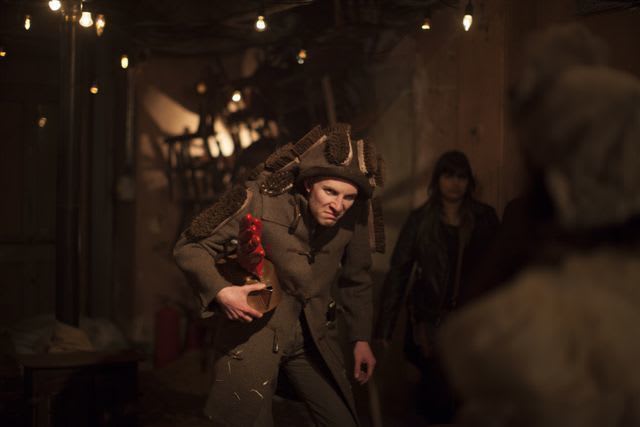 This production, which plays in the cellarage of the Town Hall, is a piece of animated story-telling that gives physical form to versions of several of the Brothers Grimm's stories that already spark the imagination. Philip Wilson takes Phillip Pullman's text, both narrative and dialogue, and passes its delivery between the actors who play its characters.
Moving through a maze of space to three different performance areas, it first tells the story of Rapunzel, the maiden imprisoned in a tower who lets down her long hair for first her captor witch to climb up and then the handsome prince who is captivated by her singing.
The next tale is less well know: The Three Snake Leaves tells of a poor young man who becomes a soldier and, when all seems lost, rallies his mates and leads them on to victory, bring a princess bride as his reward if he will promise that should she die first he will be buried alive with her.
Then there is Little Red Riding Hood and the familiar warning fable of her and her grandmother's encounters with a wolf. The story of The Juniper Tree is unusual in that it starts off not with a poor man but a rich one who wants a child, a child he gets but who is murdered by a stepmother but gains revenge and resurrection.
Fifth and last are Hans-My-Hedgehog, another story about a long-wanted child who is born half-boy and half-hedgehog who, feeling unwanted by his family, goes off, mounted on a cockerel and playing bagpipes to find his fortune.
The production is a sort of promenade, though at least half of the audience get seated. Guided down stairs into the basement by grey-cloaked ladies, who could themselves be part of a fairytale, you pass white hanging dresses lit from inside, walls of photographs, scrawls and fragmentary papers that there is just time to recognize as typical phrases from fairytale texts while being discouraged from going into certain spaces where there are intriguing glimpses of other environments heavy with associations.
Designer Tom Rogers has created an intriguing underworld with performance areas that provide atmospheres rather than precise locations with Howard Hudson's lighting making a big contribution. Director/adaptor Wilson and his team are calling on audience imaginative involvement to interpret their symbols.
Except for the first story, which offers an environment of cork earth and wooden pallets where people are toiling on the land or cooking on a stove, the cast may be dressing the setting or donning their costumes as the audience comes in and settles. The start and the end of each story are marked by a bright burst of light.
With garden-hose snakes and a cockerel made out of a copper kettle and a red rubber glove, a bed up-ended so that Granny and Wolf can slip heads onto the pillow from behind, a hedgehog boy half-covered in scrubbing brushes, a bundle of rope that first becomes a baby and then Rapunzel's golden hair, it is less a matter of suspending disbelief to become involved in its fantasy as watching its unfolding with fascination and appreciation of its theatricality.
Eight storytellers, all clearly spoken and creating instantly appropriate characterisations, act out the events that they are reporting, arranging all that is necessary in staging or costume as they do so. This is not Stanislavskian psychological interpretation: the characters of these stories are less subtle: goodies and baddies.
Nevertheless they are brought vividly to life whether Annabel Betts's Red Riding Hood, Rebecca Bainbridge's wicked stepmother, James Byng's valiant soldier prepared to die with his princess, his boy turned into a singing bird, Paul Clerkin's various kings good and bad, Sabine Arthur's Grizelda, Ashley Alymann's loving father, Lyndsay Dukes's Princess, Simon Wegrzyn's bagpipe-playing Hans, his wonderfully smirking Wolf—or any of the other characters they become.
This is a blend of extremely sophisticated thinking in the use of "poor" theatre imagination and direct and simple playing with a powerfully evocative design that makes this a delight for both adults and youngsters (the producers suggest 8+). Be warned, however, that there are a few "adult" references, it is not a cheap outing at £19.50 child's price and it does last 90 minutes without an interval, plus the time you spend exploring the rest of the basement.
As you wander through the spaces, you can find reminders of other stories, though their characters for the moment are elsewhere. There is a strange well. Can you remember who lives there? Empty beds—belonging to Goldilocks's bears perhaps. No, count them. A wicker cage with a child inside, a cupboard full of dolls and a ceiling hung with birdcages share a room with a horse on wheels.
In another place there is a great mound of furs. Those mirrors you passed. Is one of them able to answer "Who is most beautiful of all?" There's an apple tucked into a hole in the wall and an empty glass coffin.
Fairy tales are part of our common culture and their simple telling is a reminder of how powerful they can be in warning that life is not going to be a bowl of cherries and people cannot always be trusted, but they also give clear instruction on the right way to treat others and how you really should behave.
Reviewer: Howard Loxton