Phoenix Dance Theatre Spring Tour 2004
Featuring pieces choreographed by Henri Oguike, Rui Norta, Darshan Singh Buller and Maresa von Stockert
Gala Theatre, Durham, and touring
(2004)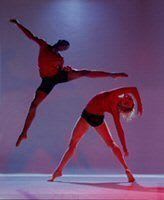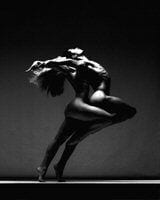 One of the pleasures of watching contemporary dance companies like Phoenix Dance Theatre is the variety of work in their programmes. So it was with Phoenix: Signal by Henri Oguike, featuring five dancers; Can You See Me by Rui Horta (four); Source 2 by Darshan Singh Bhuller (two); and polystyrene dreams by Maresa von Stockert (seven).
Each is different, both in its style and mood. Signal, which takes its inspiration from the Taiko drums of Japan and also features music for Koto and Sakuhachi, shows a strong African influence in its movement language, whilst Rui Horta's Can You See Me (which uses music by Jimi Hendrix among others) fuses street dance with, at some points, tentatively and unsuccessfully (deliberately so) performed ballet. Bhuller's romantic Source 2 uses photography and film alongside a soundscape which includes music by György Kurtág, whilst polysytrene dreams makes delightfully humorous use of Also Sprach Zarathustra, Nino Rota and Purcell.
It's a well balanced programme, and an accessible one, too, for those new to comtemporary dance. It is only with Signal that the newcomer may have have difficulty finding a way in, but once (s)he realises (and the choreographer's note in programme does make it clear) that the piece is a response to the sound of the Taiko drums, influenced by their battlefield function of both intimidating the enemy and giving commands to the soldiers, then the piece becomes more than a just a series of beautifully executed movements.
Can You See Me looks at the efforts we make to impress, to project an image, and the (to others, at any rate) amusing effects of failure to do so.
Reviewer: Peter Lathan