Pick A Pocket Or Two: A History of British Musical Theatre
Ethan Mordden
Oxford University Press
Released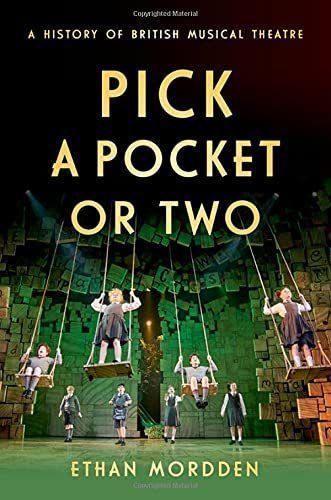 US author Ethan Mordden has written several books on the American musical, but with this book he turns his attention across the Atlantic to the British musical, which begins, according to him (and many others), with John Gay's The Beggar's Opera of 1728.
From there, he traces a line through a chapter or so on Gilbert and Sullivan, through the musical comedies and musical revues of the early twentieth century, the operettas of Ivor Novello, then onto Noel Gay, Vivian Ellis and Noël Coward, past Arthur Askey and George Formby to Tommy Steele, Joan Littlewood, Anthony Newley and Lionel Bart (I'm skipping quite a few, obviously but that's quite an interesting mixture). He gives us a comparison between Julian Slade and Sandy Wilson before properly entering the '60s (it is largely chronological, but sometimes he has to pursue a particular line to the end and then go back to pick up the timeline again).
The next decades give us David Heneker, Richard O'Brien, Alan Price, Howard Goodall and Willy Russell, not to mention Bond theme composer Monty Norman, but he only mentions a small sample of the work of each. Then of course he gets to what he calls the "pop opera": the blockbuster musicals of Boublil and Schönberg (obviously they're French, but they conquered the world via English adaptations and UK productions) and Lloyd Webber, whom he argues should be appreciated as more than just a populist composer.
More recent work is skated through without much detail in a chapter called "A Little Bit Naughty", so obviously Matilda gets a mention (and also provides the cover image), along with Buddy, Spamalot, We Will Rock You, a sampling of Stiles and Drewe, Billy Elliot, Everybody's Talking About Jamie, Six and a few others, but few get as much coverage in this chapter, oddly, as a revival of the 1963 musical Half A Sixpence. While this may be enough to claim the book is bang up-to-date, the twenty-first century isn't dealt with in as much detail or with as many examples as the early years—Gilbert and Sullivan alone get as many pages as this chapter, which is subtitled "The Last Thirty Years".
This book isn't a bad place to start for an overview of the development of the British musical theatre form that even has some views on the ways it has influenced, as well as been influenced by, the Broadway version of the form. It is an entertaining and informative read for the musical enthusiast or casual reader, but of more limited use as an academic text due to its anecdotal form with no references in the text to show where the information was found or where it can be followed up. There is an annotated bibliography, but it isn't exactly extensive and the author himself writes off some of the entries as not particularly useful. There is, however, a more extensive discography, which gives some very useful pointers in particular on how to find recordings of some of the oldest shows and productions mentioned in the book.
Mordden seems to pride himself on his opinionated writing—he even uses the word in the title of his book on Sondheim and this book is advertised as "evincing a strong point of view"—which, while fun to read, does mean that some of the works he is less keen on are dealt with more superficially, written off with a few glib words. While Miss Saigon gets quite a bit of explanation, the show that beat it to the Best Musical Olivier, Return to the Forbidden Planet, he simply dismisses as an "asinine sci-fi-spoof" which "exploited comparable material [to Buddy] in styleless renderings on a single set that may have cost all of fifty pence" without any attempt to understand what the show was actually about or what its appeal was.
Overall, while there are gaps in its coverage, this book is a good starting point for someone who is studying the subject, but it is also very accessible for any non-academic person interested in the British musical to read for pleasure.
Reviewer: David Chadderton