Picnic in the Cemetery
Njo Kong Kie
Made in Macao
C nova
–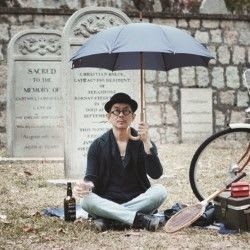 This is a meditation. It should be approached like meditation. Free yourself of all expectation.
Like meditation, it is very immediate and can often be illusive. Sometime quieting the mind can seem an insurmountable feat. This is going to be different experience for everyone in the audience and will work best, be appreciated best if you accept everything for the same value.
It is euphoric assault on the senses. Yes, there is music. Wonderful music. A surprising good upright piano and amplified violin and cello. Composer Njo Kong Kie never stumble in his offerings.
The room has an overabundance of other things that provide visual stimulation and from a variety of sources. There are digital projections which tell their own story. An exquisite young woman (ghost) wanders throughout changing the room as she goes while a man in a robe lounges in the audience, fanning himself. And there are things. There are toys, and wine, hats and bubbles. Lots of things.
This is a banquet without any sense of gluttony. It is all yours for the taking. Whatever you want. Sample as much as you can. It is impossible to describe and everyone will experience and describe it differently.
Made in Macao has offered this lush production as well as the equally worthy, Playing Landscape, refreshingly new while being infinitely recognizable.
It is must see. Or, rather, must experience.
Reviewer: Catherine Lamm